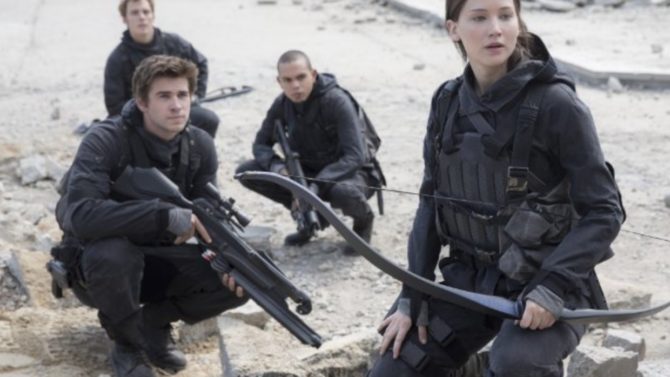 The Hunger Games: Mockingjay Part 2 se apoderó de las taquillas durante su fin de semana de estreno. La cinta protagonizada por Jennifer Lawrence recaudó 101 millones de dólares en Estados Unidos y $247 millones a nivel internacional. Sin embargo, el último cápitulo de esta franquicia de acción y aventura no logró superar el estreno de Mockingjay Part 1, película que en 2014 hizo $121 millones de dólares en EE.UU. en sus primeros tres días de exhibicion.
El elenco de Mockingjay Part 2 lo completan los galanes Liam Hemsworth y Josh Hutcherson. La cinta gira alrededor de la batalla entre La Rebelión, liderada por Katniss Everdeen (Lawrence), contra El Capitolio del Presidente Snow. La historia también explora la relación que existe entre Katniss y su hermana Prim (Willow Shields), personaje que llevó a la protagonista de esta saga a formar parte de los famosos juegos del hambre.
Otra película que sigue triunfando en boletería es Spectre. El más reciente filme de James Bond se estrenó hace dos semanas y sigue con fuertes números posicionándose en el segundo lugar con $14.6 millones de dólares.
En la tercera posición se encuentra la cinta animada The Peanuts Movie con $12.8 millones y en cuarto lugar quedó The Night Before con $10.1 millones. La comedia navideña protagonizada por Seth Rogen, Anthony Mackie y Joseph Gordon-Levitt se estreno este fin de semana.