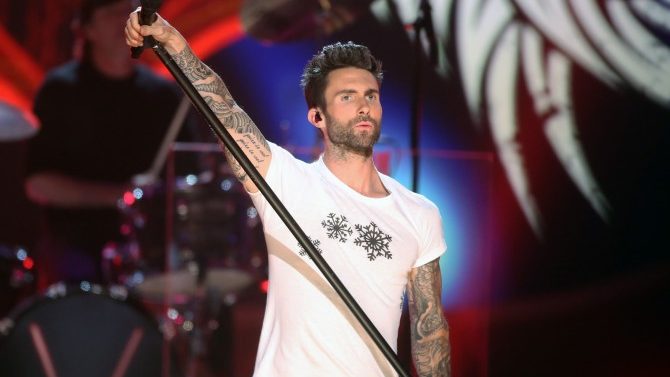 Adam Levine y el resto de los jueces de The Voice –Gwen Stefani, Blake Sheldon y Pharrell Williams– hicieron una parada técnica en The Late Show with Jimmy Fallon donde fueron víctimas de Spin the Microphone, juego que mezcla las delicias del karaoke con el infortunio del juego de la botella.
El primero en subir al escenario para demostrar sus dotes de cantante fue el líder de Maroon 5 quien demostró que su memoria no está en perfectas condiciones al olvidar parte fundamental de la letra de "Oops!…I Did It Again", el éxito que Britney Spears popularizó en 2001.
Acá pueden ver el momento en que olvida las líricas de la pieza mientras canta el tema de forma desanimada:
Los otros jueces del famoso programa de concursos de NBC también tuvieron su turno al bate. Blake cantó YMCA de Village People con la ayuda del público, Pharrell hizo un dueto junto a Fallon de "It Takes Two" de Rob Base and DJ E-Z Rock y Stefani fue la más moderna de todo el grupo cuando interpretó "Hotline Bling" de Drake, aunque desafortunadamente no imitó el famoso y extraño baile del rapero.
Si no has visto el video original -que fue lanzado la semana pasada- acá le puedes echar un vistazo para que evidencies el movimiento de cadera del canadiense:
Y a continuación puedes ver el sketch completo de Spin the Microphone: