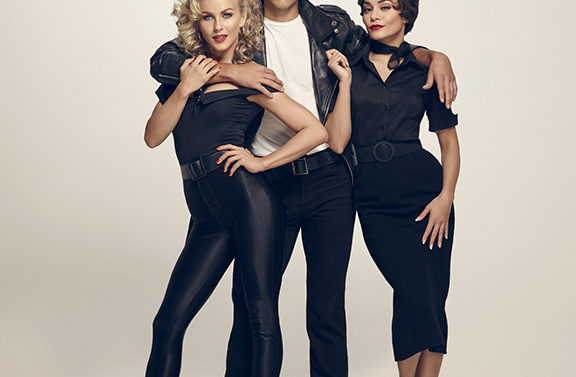 El canal FOX ha revelado las primeras imágenes oficiales de Grease: Live en las cuales se puede ver a Vanessa Hudgens, Julianne Hough y Aaron Tveit interpretando a Betty Rizzo, Sandy y Danny Zuko respectivamente.
En esta serie de fotos promocionales la jueza de Dancing With The Stars aparece vestida como la dulce Sandra Dee quien luego se transforma en una atrevida y rebelde chica de traje negro y labial rojo en esta historia de amor contada a través de pegajosas y clásicas canciones.
Esta nueva versión del famoso musical volverá a contar el cuento lleno de amor entre el rebelde Danny Zuko y la dulce Sandy, papeles que originalmente fueron encarnados por John Travolta y Olivia Newton-John en 1978, actores que saltaron a la fama luego de protagonizar Grease, largometraje en el que se basa Grease: Live.
Este remake también cuenta con las actuaciones de Carlos PenaVega como Kenickie, Mario López en el rol de Vince Fontaine, Carly Rae Jepsen es Frenchy, Keke Palmer interpretará a Marty, Kether Donohue le dará vida a Jan y David Del Río encarnará a Putzie.
https://pmcvariety.files.wordpress.com/2015/11/gl-s1_17-julianne-aaron-white02_4947-rc-a-copy.jpg?w=670
https://pmcvariety.files.wordpress.com/2015/11/gl-s1_21-julianne-sandy-white02_5913-rc-copy-1.jpg?w=670
Grease: Live será transmitido totalmente en vivo el 31 de enero de 2016 a través de las pantallas de FOX.