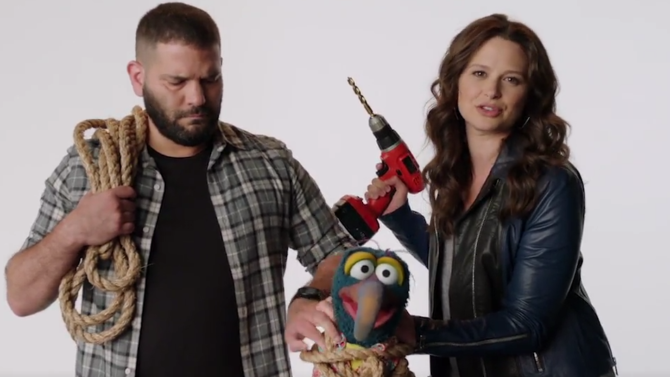 ABC acaba de estrenar un divertido video promocional de The Muppets protagonizado por Guillermo Díaz y Katie Lowes, dos de los actores más famosos de Scandal.

Para este clip Diaz y Lowes le dieron vida a los personajes de Huck y Quinn, roles que encarnan en el famoso show de la cadena de TV. Este par ha capturado a Gonzo, el miembro más azul y chiflado de esta pandilla de marionetas de felpa, amarrándolo de pies a cabeza:"Si aprietas el botón para saltar de video, este chico recibirá el taladro", le dice Lowes a la audiencia.
Es acá cuando Gonzo alienta al espectador a apretar el botón, quizás porque, debido a las palabras usadas por la actriz, piensa que podrá quedarse con la mencionada herramienta si la gente no ve el video. La falta de temor hacia esta peligrosa situación desanima a sus torturadores quienes deciden dejarlo ir.
Acá puedes ver el video completo:
Esta no es la primera vez que existe un crossover entre Los Muppets y Scandal pues Kerry Washington, la protagonista de este famoso drama, se tomó una selfie con Kermit The Frog en otro avance:
The Muppets se estrena el 22 de septiembre a través de las pantallas de ABC.