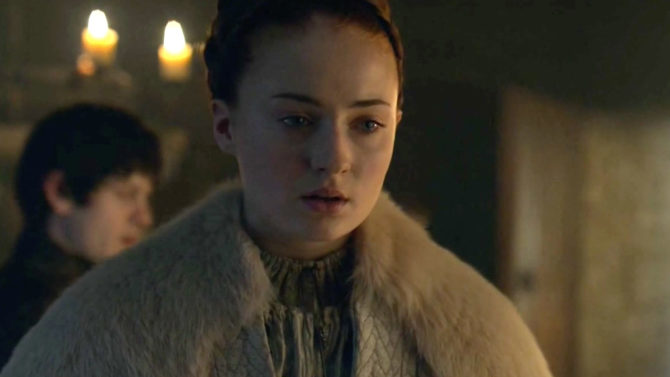 ACTUALIZACIÓN 5.19
Precaución, si no has visto el último capítulo, no sigas leyendo…
Las críticas en contra Game Of Thrones no han parado, a pesar de que Sophie Turner y George R.R. Martin defendieran la polémica escena donde Sansa Stark es atacada sexualmente por su esposo en la noche de bodas, el malvado Ramsay Bolton, interpretado por el actor, Iwan Rheon.
Y hasta los políticos comentaron el show, ya que la senadora de Missouri, Claire McCaskill tuiteó el 19 de mayo que no quería seguir viendo la serie.
"Ok, me aburrí de Game of Thrones… Una escena gratuita de una violación es repugnante e inaceptable. Fue un paseo difícil que acaba de terminar".
ANTERIORMENTE
¡Pobre Sansa! fue lo que todos los seguidores de Game of Thrones gritaron cuando vieron la terrible escena de su noche de bodas, tanto que su creador, George R.R. Martin, dio una una explicación a los fanáticos sobre ésta.
En el sexto capítulo de la quinta temporada de Game Of Thrones, vimos a Sansa (Sophie Turner) casarse con el malvado Ramsay Bolton (Iwan Rheon) quien de una forma muy sádica obligó a su sirviente, Theon Greyjoy (Alfie Allen), a que los observara en la noche de bodas, mientras tristemente escuchábamos a Sansa llorar desconsolada.
En los libros, Sansa nunca se casa con Ramsay, por lo que los fans estaban indignados de que en Game Of Thrones, sigan haciendo sufrir a nuestros personajes más queridos.
Ante esto, George R.R. Martin dijo que había recibido una cantidad impresionante de emails para que explicara este giro dramático. "¿Cuántos hijos tuvo Scarlett O'Hara? Tres en la novela. En la película, ninguno… El show es el show, los libros son los libros, dos maneras de contar la misma historia", dijo.
Aunque no lo crean, la actriz, Sophie Turner, no estuvo en desacuerdo con la escena y comentó a Entertainment Weekly que le gustó hacerla: "Cuando leí la escena como que la amé. Me gustó que Ramsay tuviera a Theon mirando. Está todo tan mal, fue también para mí un desafío hacer la escena". Turner también contó que le dijo al escritor: "¡No puedo creer que me hagas esto!, pero en secreto la amaba [la escena]".
Acá algunos reclamos de los fans:
¿Qué opinas del último episodio?