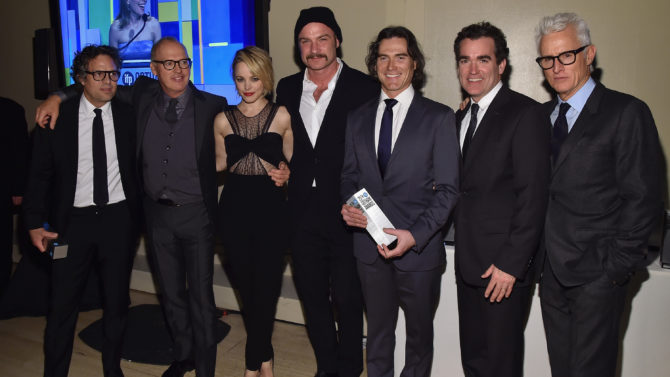 Spotlight se llevó los premios a Mejor Película y a Mejor Guión en los Gotham Awards 2015, galardones que celebran lo mejor del cine y la televisión de corte independiente. Por si fuera poco, la cinta protagonizada por Mark Ruffalo recibió una estatuilla especial por parte del jurado venerando al elenco del filme que es completado por importantes figuras como Michael Keaton, Rachel McAdams y Liev Schreiber.
El protagonista de Avengers: Age of Ultron fue el encargado de recibir el reconocimiento en tarima: "Lograr que un actor ofrezca una actuación desinteresada estando consciente de su ego es un logro (…) Tener a un grupo de actores que lo hagan juntos es un maldito milagro", señaló.
Spotlight está basada en la investigación realizada por el Boston Globe en 2002 sobre una serie de denuncias de origen sexual que envolvían a algunos miembros de la Iglesia Católica de esa ciudad. La atención que ha recibido esta cinta por la crítica especializada augura que podría estar nominada en los Oscar 2016.
Siguiendo con los ganadores de los Gotham Awards 2015 debes saber que Bel Powley, de la cinta The Diary of a Teenage Girl, se quedó con el premio a Mejor Actriz. Paul Dano, quien hizo la versión joven de Brian Wilson en Love & Mercy, ganó el premio a Mejor Actor. El show de TV Mr. Robot fue reconocida como la Serie Revelación del Año.
Acá tienes la lista completa de ganadores:
Mejor Película:
Carol
The Diary of a Teenage Girl
Heaven Knows What
Spotlight (Ganadora)
Tangerine
Mejor Documental:
Approaching the Elephant
Cartel Land
Heart of a Dog
Listen to Me Marlon
The Look of Silence (Ganador)
Premio Bingham Ray Director Revelación
Desiree Akhavan for Appropriate Behavior
Jonas Carpigano for Mediterranea (Ganador)
Marielle Heller for The Diary of a Teenage Girl
John Magary for The Mend 
Josh Mond for James White
Mejor Guión
Carol, Phyllis Nagy
The Diary of a Teenage Girl, Marielle Heller
Love & Mercy, Oren Moverman and Michael Alan Lerner
Spotlight, Tom McCarthy and Josh Singer (Ganador)
While We're Young, Noah Baumbach
Mejor Actor
Christopher Abbott in James White
Kevin Corrigan in Results
Paul Dano in Love & Mercy (Ganador)
Peter Sarsgaard in Experimenter
Michael Shannon in 99 Homes
Mejor Actriz
Cate Blanchett in Carol
Blythe Danner in I'll See You in My Dreams
Brie Larson in Room
Bel Powley in The Diary of a Teenage Girl (Ganadora)
Lily Tomlin in Grandma
Kristen Wiig in Welcome to Me
Actor revelación
Rory Culkin in Gabriel
Arielle Holmes in Heaven Knows What
Lola Kirke in Mistress America
Kitana Kiki Rodriguez in Tangerine
Mya Taylor in Tangerine (Ganadora)
Premio Especial del Jurado al elenco de Spotlight: Mark Ruffalo, Michael Keaton, Rachel McAdams, Liev Schreiber, John Slattery, Stanley Tucci and Brian D'Arcy James.
Serie Revelación: Long Form
"Jane the Virgin," Jennie Snyder Urman, Creator
"Mr. Robot," Sam Esmail, Creator (Ganador)
"Transparent," Jill Soloway, Creator
"Unbreakable Kimmy Schmidt," Tina Fey, Robert Carlock, Creators
"UnREAL," Marti Noxon, Sarah Gertrude Shapiro, Creators
Serie Revelación: Short Form
"Bee and PuppyCat," Natasha Alllegri, Creator
"The Impossibilities," Anna Kerrigan, Creator
"Qraftish," Christal, Creator
"Shugs and Fats," Nadia Manzoor and Radhka Vaz, Creator (Ganador)
"You're So Talented," Sam Bailey, Creator