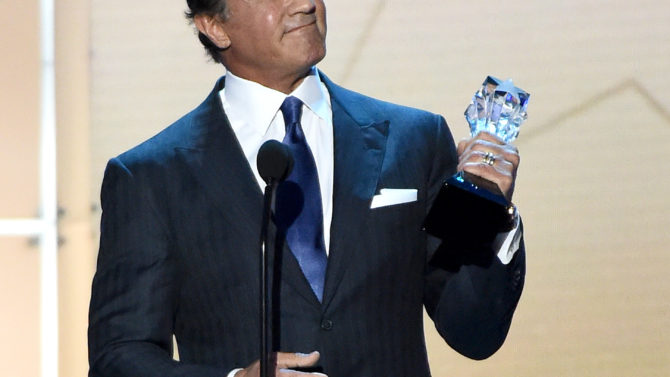 Este domingo 17 de enero se llevó a cabo la entrega número 21 de los Critics' Choice Awards, galardones otorgados por la Broadcast Film Critics Association, que premian la excelencia en el cine y la televisión.
Mad Max: Fury Road fue el esfuerzo cinematográfico que lideró la lista de nominados estando presente en 13 rubros, mientras que The Revenant, Carol y The Martian lograron 9 cada una. La creación de George Miller, quien ganó como "Mejor Director", arrasó con la mayoría de las categorías técnicas.
Por otro lado, la serie de FX, Fargo, se alzó en varias categorías actorales, entre ellas "Mejor Actriz en una Película de TV o Serie Limitada" para Kirsten Dunst.
A continuación la lista completa de ganadores.
Películas
Mejor Película: Spotlight
Mejor Actor: Leonardo DiCaprio – The Revenant
Mejor Actriz: Brie Larson – Room
Mejor Actor de Reparto: Sylvester Stallone – Creed
Mejor Actriz de Reparto: Alicia Vikander – The Danish Girl
Mejor Actor/Actriz Nuevo: Jacob Tremblay – Room
Mejor Elenco: Spotlight
Mejor Director: George Miller – Mad Max: Fury Road
Mejor Guión Original: Spotlight
Mejor Guión Adaptado: The Big Short
Mejor Cinematografía: Emmanuel Lubezki  – The Revenant
Mejor Producción de Diseño: Mad Max: Fury Road
Mejor Edición: Mad Max: Fury Road
Mejor Diseño de Vestuario: Mad Max: Fury Road
Mejor Maquillaje: Mad Max: Fury Road
Mejor Efectos Visuales: Mad Max: Fury Road
Mejor Película Animada: Inside Out
Mejor Película de Acción: Mad Max: Fury Road
Mejor Actor en una Película de Acción: Tom Hardy – Mad Max: Fury Road
Mejor Actriz en una Película de Acción: Charlize Theron – Mad Max: Fury Road
Mejor Comedia: The Big Short
Mejor Actor en una Comedia: Christian Bale – The Big Short
Mejor Actriz en una Comedia: Amy Schumer – Trainwreck
Mejor Película de Horror/ Ciencia Ficción: Ex Machina
Mejor Película Extranjera: Son of Saul
Mejor Documental: Amy
Mejor Canción: "See You Again" [Furious 7]
Mejor Banda Sonora: The Hateful Eight
Mejor Actor en una Serie de Drama: Rami Malek – Mr. Robot
Mejor Actriz en una Película de TV o Serie Limitada: Kirsten Dunst – Fargo 
Mejor Serie de Comedia: Master of None
Mejor Serie de Drama: Mr. Robot
Mejor Actor/Actriz Invitado a una Serie de Comedia: Timothy Olyphant – The Grinder
Mejor Actor/Actriz Invitado a una Serie de Drama: Margo Martindale – The Good Wife
Mejor Película Hecha para la TV o Serie Limitada: Fargo
Mejor Actor de Reparto en una Serie de Drama: Christian Slater – Mr. Robot
Mejor Actriz de Reparto en una Serie de Drama: Contance Zimmer – Unreal
Mejor Actriz de Reparto en una Serie de Comedia: Mayim Bialik – The Big Bang Theory
Mejor Actor de Reparto en una Serie de Drama: Andre Braugher – Brooklyn Nine Nine
Mejor Actriz de Reparto en una Película de TV o Serie Limitada: Jean Smart – Fargo
Mejor Actor de Reparto en una Película de TV o Serie Limitada: Jesse Plemons – Fargo
Mejor Serie Animada: BoJack Horseman
Mejor Reality Show de Concurso: The Voice
Mejor Conductor de un Programa de TV: James Lipton – Inside the Actors Studio
Mejor Reality Show Estructurado: Shark Tank
Mejor Talk Show: Last Week Tonight with John Oliver
Mejor Reality Show: Anthony Bourdain: Parts Unknown