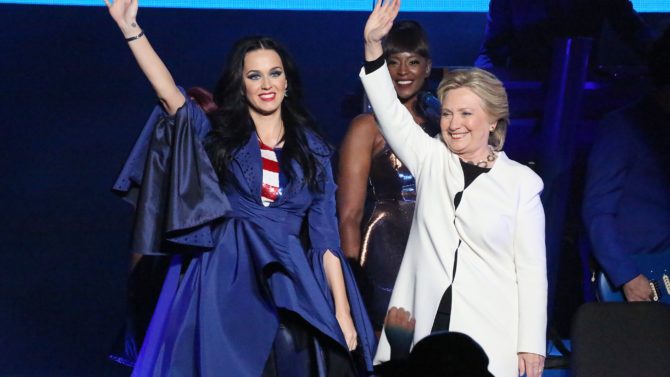 Katy Perry ha sido la más reciente estrella en caminar en las filas de Hillary Clinton. La cantante de "Rise" se presentó en Filadelfia la noche del sábado 5 de noviembre en un evento en apoyo a la candidata presidencial de los Estados Unidos, a tan sólo días de celebrarse las elecciones.
"Yo estoy usando mi voz", sentenció Perry durante su presentación, haciendo frente a las críticas que ha enfrentado. El evento se llevó a cabo en el Mann Center of Performing Arts.
"Amo el mensaje de que cuanto te derriben, cosa que le ocurre a todo el mundo, el mensaje te dice 'ponte de pie nuevamente'", aseguró Clinton antes de darle la bienvenida a Perry sobre el escenario. Esta no es la primera vez que la intérprete cante para la candidata del partido demócrata, ya que la artista se presentó en un evento celebrado en octubre de 2015, así como en la Convención Nacional Demócrata, llevada a cabo en julio.
Durante esta noche, también habló Shonda Rhimes, creadora de populares series como Grey's Anatomy y How To Get Away With Murder.
Cabe destacar que el tema "Roar" de Perry es uno de los elegidos para una de las campañas de Clinton.