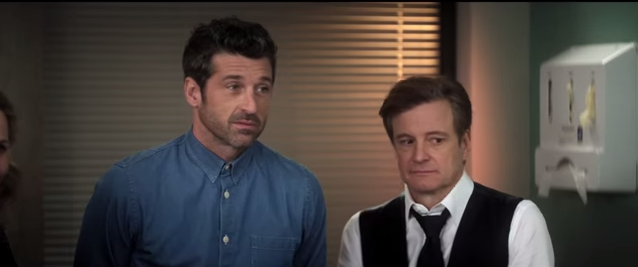 Patrick Dempsey y Colin Firth se enfrascan en una batalla campal por la paternidad del bebé de Bridget Jones, personaje interpretado por Renée Zellweger, en el nuevo trailer de la película Bridget Jones's Baby.
"No puedo volver a cometer los mismos errores cuando puedo cometer nuevos errores", dice una preocupada Bridget en el avance.
La tercera entrega de esta saga de comedias que comenzó en 2001 con Bridget Jones's Diary, retoma la historia de la desopilante mujer inglesa 12 años después de The Edge of Reason (2004), cuando Bridget rompe con su enamorado Mark Darcy (Colin Firth), y se dedica de lleno a su carrera periodística. Una vez soltera, conoce a un americano llamado Jack Qwant (Patrick Dempsey), pero después de fogosos encuentros con ambos hombres descubre que está embarazada y no tiene idea de quién es el padre. 
El resultado es una batalla entre dos caballeros que aseguran ser el padre de la criatura por nacer.
La mordaz ginecóloga de Bridget interpretada por Emma Thompson tiene la solución y le dice: "Es como la final de The X Factor. Marque 01 si quiere que sea Mark y marque 02 si quiere que sea Jack". 
La cinta es la tercera parte de la franquicia basada en los libros de Helen Fielding y está dirigida por Sharon Maguire. Bridget Jones's Baby se estrena el próximo 16 de septiembre.