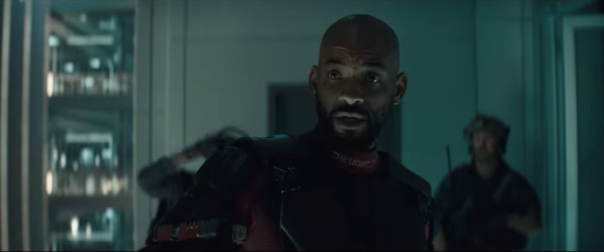 El personaje de Will Smith en Suicide Squad protagoniza el nuevo avance de la película que estrenará el próximo 5 de agosto.
Deadshot, conocido por sus amigos como Floyd Lawton, es el eje central del nuevo adelanto, en el que por primera vez vemos al actor de The Mindy Project, Ike Barinholtz, quien interpreta a un guardia de seguridad de la cárcel federal Belle Reve que cae en la lista negra de Deadshot.
"Nunca había interpretado a un personaje al que legítimamente no le importara nada", dijo Smith a Entertainment Weekly, sobre su personaje en la cinta. "Es muy liberador no tener que llevar la carga moral de la película".
Y es que Smith interpreta a un asesino en la cinta de acción, papel para el cual se preparó con la ayuda del director de la cinta, David Ayer.
"David me guió en el proceso. Encontró un libro para mí, "The Anatomy of Motive" de John Douglas, y yo trabajé en conseguir meterme en la cabeza de un asesino en serie", explicó el actor sobre la forma que abordó su personaje, considerado junto a su cuadrilla como los "peores héroes de la historia".
Smith comparte cartel con Margot Robbie, Jared Leto, Jay Hernández, así como con Viola Davis, Joel Kinnaman y Cara Delevigne, entre otros.