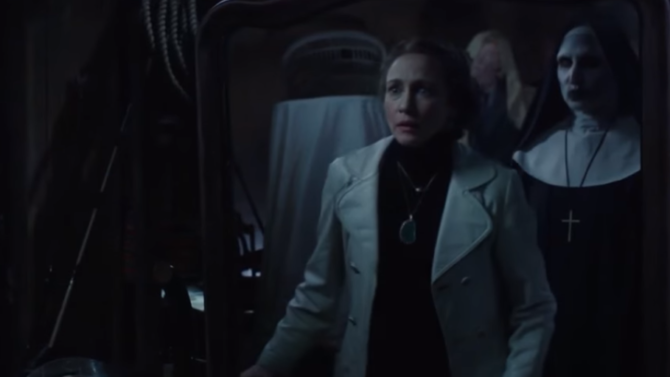 New Line reveló que se encuentra desarrollando un spin-off basado en "The Nun" (la monja), el demoníaco personaje que acaba de hacer debut en la ya exitosa cinta de terror The Conjuring 2.
El estudio cinematográfico confirmó que David Leslie Johnson, co escritor de esta secuela del director James Wan, escribirá el guión para esta nueva historia con la ayuda de Chad y Carey Hayes.
Este escalofriante personaje surge en la secuela de The Conjuring, a raíz de un dibujo plasmado por el investigador de sucesos paranormales Ed Warren, interpretado por el actor Patrick Wilson. La historia no termina acá, ya que esta demoníaca pintura toma forma y comienza a aterrorizar a su esposa, Lorraine Warren (Vera Farmiga).
Esta no es la primera vez que The Conjuring da a luz a un spin-off. En 2014, la cinta Annabelle asustó a las audiencias y se convirtió en un mega hit de taquilla, logrando recaudar $256 millones a nivel mundial, como producto de un presupuesto de tan solo $6 millones.
Si crees que este personaje no te dará mucho miedo, puedes ver The Conjuring 2, actualmente en cines, y sacar tus propias conclusiones.