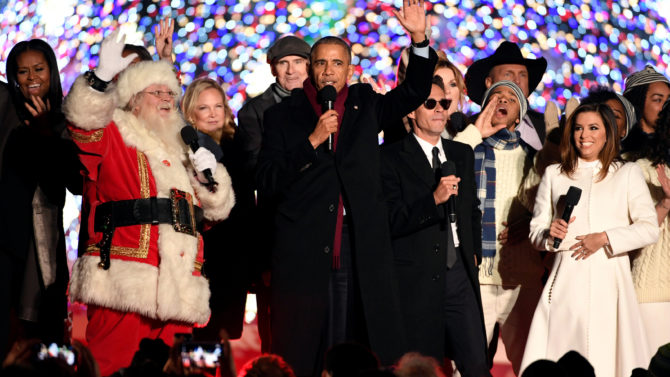 La noche del jueves 1 de diciembre se celebró la tradicional ceremonia de encendido de luces del árbol de Navidad en la que el presidente Barack Obama, la actriz Eva Longoria y el cantante Marc Anthony pusieron alegría al cantar "Jingle Bells" junto a otros artistas invitados.
La bienvenida a la Navidad se realizó en el Ellipse, el parque público localizado al sur de la residencia presidencial en Washington D.C..
Entre los invitados se encontraban Kelly Clarkson, The Lumineers, James Taylor, Chance The Rapper y, por supuesto, Santa Claus.
FOTOS Encendido del árbol de Navidad del Rockefeller Center 
A la ceremonia también asistieron la primera dama Michelle Obama y su hija menor Sasha, de 15 años. La mayor, Malia, de 18, no fue ya que se está tomando un año de descanso antes de comenzar a estudiar en la Universidad de Harvard el próximo otoño.
Esta será la última navidad de la familia Obama en la Casa Blanca ya que el próximo 20 enero asumirá su cargo el presidente electo Donald Trump.