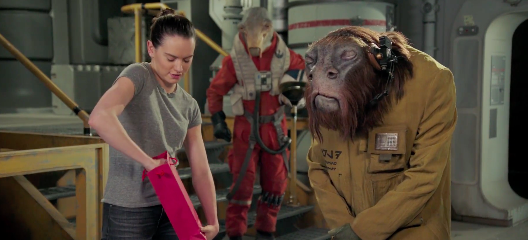 La actriz Daisy Ridley es la protagonista del más reciente video de Star Wars: Force for Change, iniciativa creada por Disney y Lucasfilm dedicada a encontrar soluciones creativas a algunos de los problemas más grandes del mundo.
El clip fue estrenado justo a tiempo para celebrar el día de Star Wars, efeméride que se celebra cada 4 de mayo, debido a que en inglés la famosa frase de la película que dice "May the Force be with You" rima con "May the Fourth be With You", lo que se traduce a "Que el cuatro de mayo esté contigo".
Por lo que se puede ver en el video, la intérprete británica está en plena grabación del episodio 8 de esta importante saga cinematográfica que llegará a cines en diciembre de 2017.
Star Wars: The Force Awakens fue la película que le dio la bienvenida al personaje de Rey (Ridley). La cinta dirigida por J.J. Abrams fue un éxito rotundo en la taquilla mundial.
Es tal la fiebre que existe alrededor de la franquicia que este año se estrenará el primer spin-off de la saga llamado Rogue One: A Star Wars Story, largometraje que está protagonizado por uno de los nuestros, el mexicano Diego Luna.