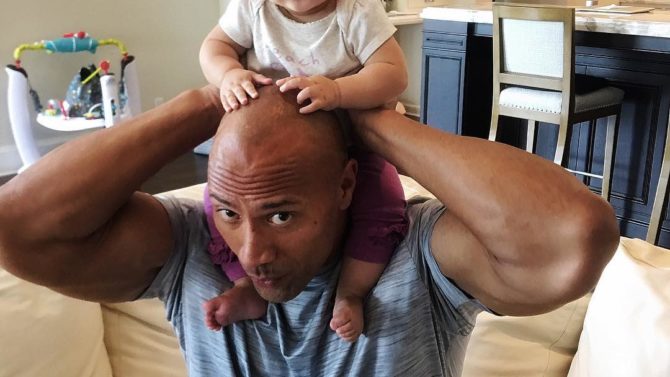 Dwayne "The Rock" Johnson pasó este fin de semana largo con la mejor de las compañías; Jasmine, su pequeña bebita de 8 meses.
El actor de la nueva versión cinematográfica de Baywatch compartió este lunes un hermoso momento de padre e hija en su cuenta oficial de Instagram. "En espíritu de este día, tuve una increíble conversación filosófica con mi bebita acerca del valor del trabajo arduo y de cómo se otorga el respeto cuando éste es ganado", escribió "The Rock" junto a la imagen, en la que aparece Jasmine mirando fijamente a la cámara con sus enormes y curiosos ojos.
"Le dije, 'pequeña, cuando crezcas, haz una marca en el Universo a través de trabajo duro y sudor. Y siempre asegúrate de hacerlo en una manera positiva, con clase, dignidad y respeto", agregó Johnson, de 44 años.
El actor de Jumamji le dio la bienvenida a esta pequeña en diciembre de 2015 junto a su novia Lauren Hashian. Johnson es también padre de Simone, de 14 años, producto de su matrimonio anterior con Dany García.
Además de protagonizar dos nuevos reboots para la pantalla grande, pronto podremos ver a Johnson en la esperada nueva entrega de la saga Fast and the Furious, película que llegará a los cines el 14 de abril de 2017.