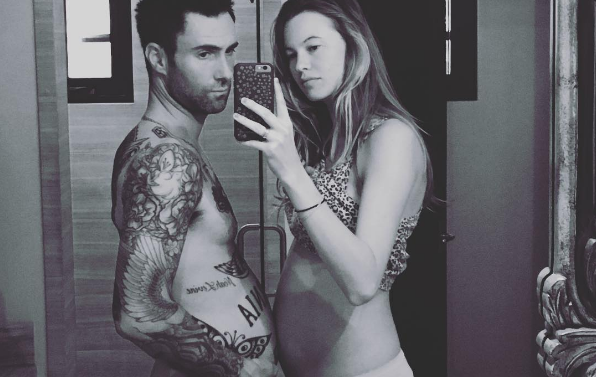 Si pensábamos que era imposible que nos gustara aún más Adam Levine, estábamos equivocados. En una nueva foto con su esposa, la modelo Behati Prinsloo, el músico se solidarizó y muestra su barriga de papá.
El vocalista de Maroon 5 tomó su cuenta de Instagram para bromear sobre su transformación en una foto publicada el martes en la noche.
VER TAMBIÉN Behati Prinsloo muestra su pancita de embarazada, Michelle Rodríguez maneja un Jaguar, y más
"¡Semana 20 y finalmente se nota! #YoTambiénEstoyEmbarazado", lee el mensaje que Levine escribió junto a la foto en blanco y negro de la pareja posando en ropa interior.
Levine, de 37 años y Prinsloo, de 26, se casaron en México en julio de 2014. Desde entonces ambos han sido muy vocales sobre la intención de tener una gran familia. Hace un mes el cantante compartía la feliz noticia del embarazo de su esposa y modelo de Victoria's Secret.
VER TAMBIÉN Go Now', el nuevo tema de Adam Levine que formará parte de la banda sonora de 'Sing Street'
El también coach del programa de cazatalentos The Voice se presentó el 28 de abril en The Tonight Show, donde compartió con la audiencia lo "súper emocionado" que se encuentra con el embarazo. La pareja espera una niña que nacerá el mes de septiembre.