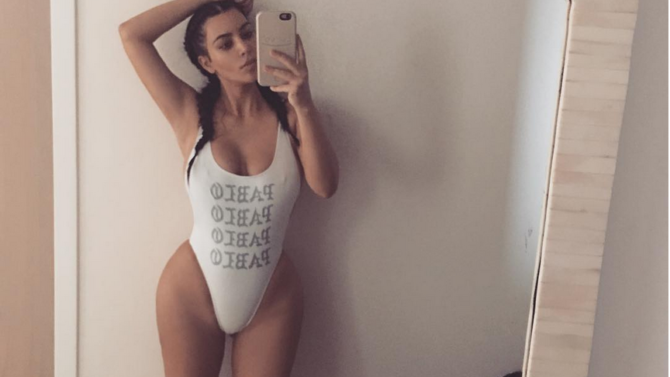 Como solo ella lo sabe hacer, Kim Kardashian ha encendido las redes sociales este sábado con una nueva foto en traje de baño, en la que muestra sus famosas curvas.
En la imagen, la socialité aparece luciendo un bañador blanco que dice "Pablo Pablo Pablo Pablo", el cual forma parte de la línea de ropa The Life of Pablo, de su esposo, Kanye West.
RELACIONADO 14 reveladoras fotos de Kim Kardashian que han causado revuelo en Internet
Junto a la foto, Kim escribió: "TheWifeOfPablo" (LaEsposaDePablo), un juego de palabras que hace alusión a dicha marca, mismo nombre del séptimo álbum de estudio de su famoso esposo.
Al parecer, Kim se tomó esta selfie durante unas vacaciones que se tomó en estos días junto a su esposo y sus hijos, North y Saint. Aunque aun se desconoce el destino escogido por la pareja, sí podemos asegurar que se encontraban en una paradisíaca isla, esto a juzgar por otra foto que Kim compartió este viernes de una hermosa playa, junto a la cual solo escribió: "Ambiente playero".