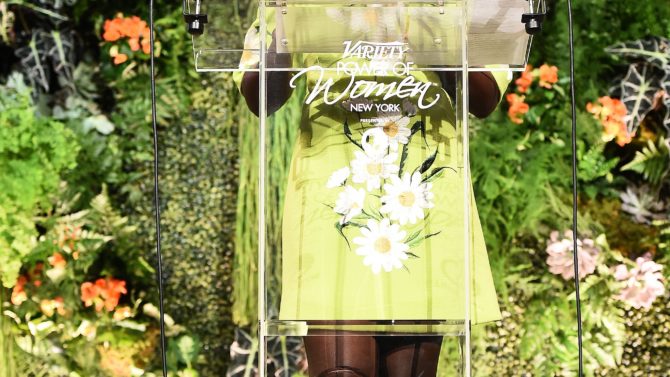 Lupita Nyong'o fue reconocida este 8 de abril durante la tercera edición de Variety's Power of Women NY, evento a través del cual la reconocida publicación honra a un selecto grupo de celebridades que utiliza su fama para traer luz a importantes causas.
En el caso de la actriz ganadora del Oscar, esa causa es la defensa de las mujeres embarazadas y niños necesitados en las zonas más desfavorecidas del mundo, a través de su apoyo a la organización sin fines de lucro, Mother Health International.
La artista nacida en México recibió de manos de la actriz Danai Gurira su reconocimiento, luciendo un elegante vestido verde floreado. Al momento de recibir el galardón, la actriz de Star Wars: The Force Awakens agredeció a los organizadores del evento por la distinción, e hizo énfasis en la situación actual que atraviesan las mujeres. "Vivimos en un mundo donde la guerra contra las mujeres puede sentirse alrededor del mundo", indicó la celebridad, asegurando que el cuerpo femenino está constantemente bajo ataque. "¿Cómo convertirnos ese dolor en poder?", cuestionó la actriz.
Nyong'o indicó que en la lucha por mejorar las condiciones de las mujeres, es importante la unión. "Es vital que las mujeres ayuden a otras mujeres", aseguró.
Julianne Moore, la bailarina Misty Copeland, la conductora Megyn Kelly y la diseñadora Vera Wang también fueron honradas durante el evento. La actriz Mariska Hargitay recibió además un reconocimiento especial por el trabajo de su fundación Joyful Heart.