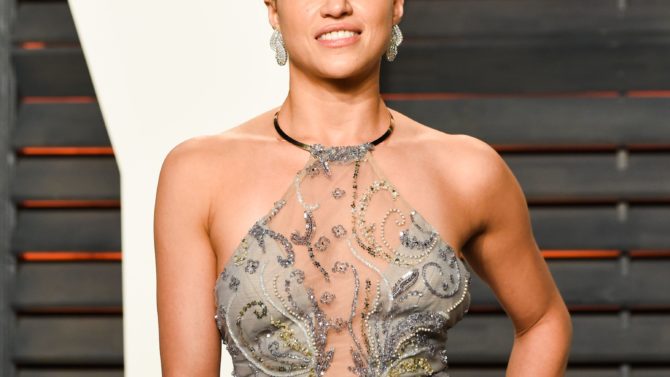 TMZ detuvo a Michelle Rodríguez cuando estaba a punto de chequearse para tomar un vuelo en el aeropuerto de Los Ángeles, California, y así poder preguntarle qué opinaba sobre las palabras de Seth Rogen, quien dice que, precisamente gracias a él, es que se está hablando actualmente de la diferencia de salarios que existe entre hombres y mujeres actualmente en Hollywood.
La protagonista de Furious 7, aunque no ahonda en el tema de Rogen, afirma que está agradecida con el actor, no sin antes señalar que ella recibe menos dinero por actuar en la franquicia de Fast and Furious en comparación de sus coestrellas masculinas:
"Ese es el mundo en el que vivimos, esto es una sociedad patriarcal", acota la actriz antes de decir que para ella esta situación es como haber nacido siendo esclavo, agregando que a veces se pregunta si hubiese sido mejor nacer en otro sitio, comentario que finalizó con un "Eso es lo que hay".
Rodríguez es una de las actrices que recientemente se han manifestado acerca de esta situación, discusión que se ha convertido en un tema muy en boga en Hollywood. Recientemente, Robin Wright, la protagonista de House of Cards, demandó el mismo salario que el que recibe su coestrella, Kevin Spacey, a los productores del exitoso show de Netflix.