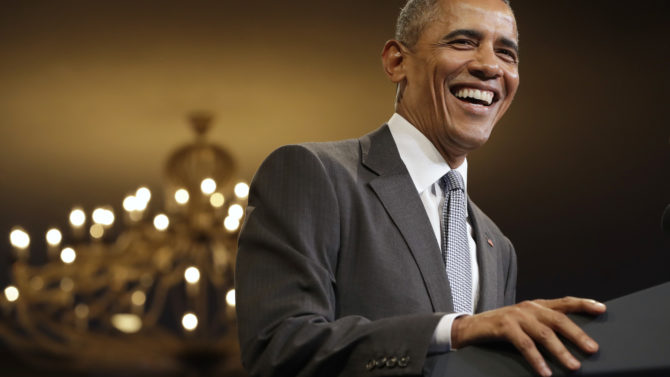 ¡El presidente Barack Obama está de cumpleaños!
El primer mandatario de Estados Unidos está celebrando sus 55 años. De ellos, siete y medio los ha pasado en la Casa Blanca… y si de algo nos dimos cuenta, es que durante estos últimos años hemos tenido el presidente más cool de la historia.
Dicho eso, ¿cómo vamos a celebrar el cumpleaños del papá de Malia y Sasha? Sencillo, con un resumen de algunos de sus mejores momentos durante su mandato.
Obama es como "Mr. Miyagi"
Llegó sin avisar a un restaurante dentro del campus de The Ohio State University
Obama "gets that dirt off his shoulder"
Hace que los bebés dejen de llorar
¡ESTO!
Ofreció un discurso acompañado de "Luther" (Keegan-Michael Key), su traductor de coraje. 
"I'm sorry, who is that back there? What the heck are you talking about?"
"El tiempo vuela, los pavos no"
"Mean Tweets" 
Le recordó a Zach Galifianakis que The Hangover Part III no fue una buena película.
"5 cosas más difíciles que votar"
Tiene un récord de chistes sobre la candidatura de Donald Trump
Presentó su plan de retiro
"Obama out"
VER TAMBIÉN: Con un mensaje lleno de amor, Michelle Obama felicita a Barack por su cumpleaños