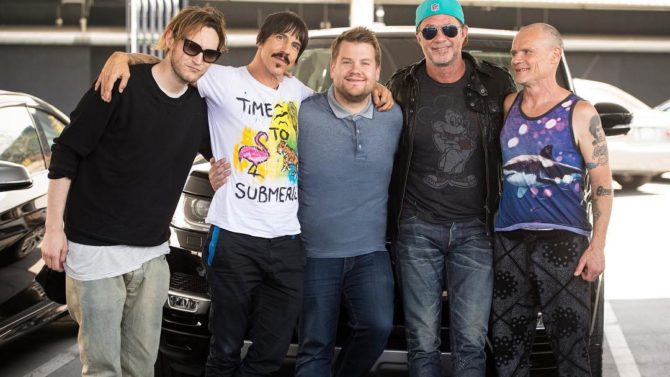 La legendaria banda californiana Red Hot Chili Peppers anunció a través de su cuenta oficial de Instagram que serán los próximos invitados especiales en el popular segmento "Carpool Karaoke" de James Corden.
VER TAMBIÉN Lin-Manuel Miranda rinde homenaje a Broadway en 'Carpool Karaoke' [VIDEO]
"Alerta de TV: Red Hot Chili Peppers serán invitados en The Late Late Show with James Corden para Carpool Karaoke el lunes 13 de junio", lee el post en la red social. Así que si eres fan de los creadores de "Scar Tissue", ¡a marcar calendarios!
La banda liderada por Anthony Kiedis está muy pronta a estrenar su nueva producción discográfica titulada The Getaway, disco que le seguirá a I'm With You, el cual salió al mercado en 2011. Este nuevo álbum contó con la producción de Danger Mouse y saldrá a la venta el próximo 17 de junio.
El segmento "Carpool Karaoke" de The Late Late Show se ha convertido en uno de los sketches más populares del programa de televisión, donde el animador canta mientras conduce un vehículo acompañado de famosos de la talla de Sia, Justin Bieber, Lin-Manuel Miranda y Adele.
Este nuevo episodio con los Red Hot Chili Peppers se estrenará la noche del 13 de junio en The Late Late Show.