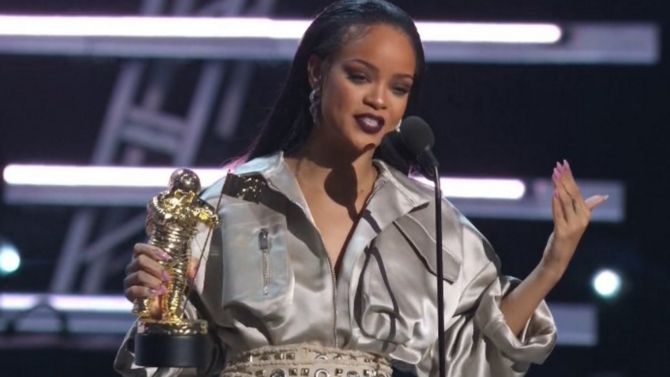 La cantante Rihanna recibió este domingo el "Video Vanguard Award" en los MTV Video Music Awards 2016 (VMAs).
"No puedo creer que estoy recibiendo el 'Michael Jackson Vanguard Award' a los 28 años. Esto es una locura", expresó la artista original de Barbados.
La intérprete de "Work" recibió el reconocimiento de las manos de Drake, quien dijo que conoció a Rihanna en 2005 cuando ella estaba grabando el video del tema "Pon de Replay". Luego añadió: "Once años después, el mundo entero la conoce la única e inigualable, Rihanna… Ella es exitosa haciendo algo que nadie hace en la industria de la música: ser ella misma".
VER TAMBIÉN: Kanye West presenta el video de 'Fade' luego de su discurso en los VMAs
"Ella es alguien de quien estoy enamorado desde los 22 años. Ella es mi mejor amiga. Es alguien a quien, aunque es menor que yo, la veo como un ejemplo", agregó el intérprete de "Hotline Bling".
El "Michael Jackson Video Vanguard Award" es un reconocimiento entregado a músicos que han tenido un profundo impacto en la cultura MTV. En el pasado lo han recibido Kanye West, Beyoncé, Britney Spears y Justin Timberlake, entre otros.
Durante la velada, Rihanna pisó el escenario cuatro veces. En su primera presentación interpretó "Don't Stop the Music", "We Found Love" y "Where Have You Been", mientras bailaba junto a un grupo de bailarines vestidos de blanco.
"Rude Boy", "Whats My Name?" y "Work" fueron los temas que cantó en su segunda intervención. Mientras que la tercera vez que subió al escenario bailó al ritmo de "Need Me", "Pour It Up" y "Bitch Better Have my Money".
VER TAMBIÉN: Alicia Keys rinde tributo a Martin Luther King Jr. en los MTV Video Music Awards 2016 [VIDEO]
Justo antes de recibir el premio especial presentó los temas "Stay", "Diamonds" y "Love On The Brain" acompañada de una orquesta de vientos.
Este año, y por primera vez, la ceremonia de los VMAs tomó lugar en el Madison Square Garden de Nueva York. El evento se transmitió a través de su cadena oficial, MTV.