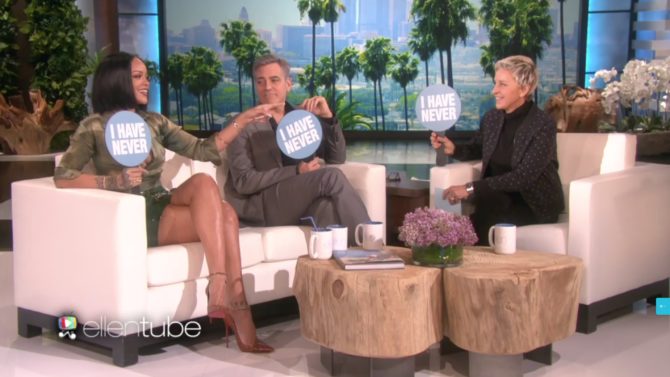 Rihanna y George Clooney revelaron de todo -y más- mientras jugaban "Never Have I Ever" (dinámica que en español se conoce como "Yo Nunca") en una visita al show de Ellen DeGeneres.
Los artistas confesaron, entre otras cosas, si han enviado fotos sin ropa por mensajes de texto, si han estado borrachos antes del mediodía y si alguna vez han olvidado el nombre de la persona con la que están coqueteando. "No mientas George", le dice RiRi al galán. Mira el divertido cuestionario a continuación:
Clooney visitó The Ellen Show para promocionar su más reciente película, titulada Hail, Caesar!, que sale en cines el viernes 5 de febrero. En el filme, el actor interpreta a Baird Whitlock, un personaje que es secuestrado durante la grabación de una película. El productor de cine Eddie Mannix (Josh Brolin) es quien tiene la tarea de dar con su paradero. El elenco lo completan actores como Channing Tatum, Jonah Hill y Scarlett Johansson.
Por otra parte, Rihanna se encuentra en plena promoción de su nuevo álbum titulado Anti. El disco cuenta con el exitoso tema "Work ft. Drake", que a solo una semana de haberse estrenado se ha convertido en una de las canciones más populares de la radio y se posicionó entre las Top 10 de Billboard.