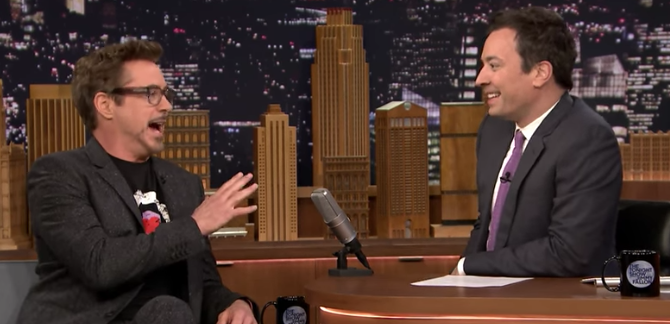 Robert Downey Jr. sigue haciendo paradas estratégicas en diferentes programas de televisión para promocionar a más no poder su nueva cinta, Captain America: Civil War. Es por ello que se sentó en The Tonight Show with Jimmy Fallon, para hablar sobre esta nueva película de Marvel, lugar donde además aprovechó para enseñarle al animador un poco de actuación.
Como se puede ver en el video, Downey Jr. habla precisamente de todo lo que odia a la hora de actuar, justo antes de colocar al animador en una serie de pruebas, como si tratara de una audición, para ver qué tanto podía manejar Fallon aquellas escenas que el mismísimo Iron Man odia hacer.
Captain America: Civil War se estrena este 6 de mayo en varias partes del mundo y, así como ha pasado con cada una de las películas de Marvel, se espera que sea todo un éxito de taquilla.
En esta película el mismísimo Capitán América (Chris Evans) tendrá que vérselas con Iron Man, luego que ambos encabezan una riña por tener opiniones distintas en cuanto al papel que deberían desempeñar los superhéroes en el mundo.