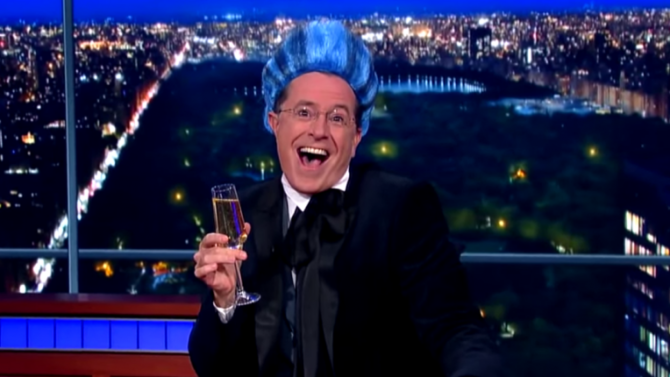 No hay duda de que Stephen Colbert es uno de los grandes conductores de la televisión estadounidense. Este actor, escritor y cómico logra agarrar las noticias más preocupantes del mundo y, además de explicarlas de la manera más simple posible, les añade un poco de comedia (por eso de reír para no llorar).
El animador de Late Show with Stephen Colbert cumple este 13 de mayo 52 años, y queremos celebrarlo repasando algunos de sus mejores momentos en la pantalla chica.
Cuando actuó como Johnny Deep para hacer una parodia de la disculpa que el actor y su esposa Amber Heard le dieron al gobierno de Australia por ingresar a sus dos perros, Boo y Pistol, sin declararlos.
El memorable momento en que imitó al líder del Cártel de Sinaloa, Joaquín "El Chapo" Guzmán. 
El día en que se vistió como Caesar Flickerman (de la película Hunger Games) para analizar a los candidatos del GOP.
Cuando hizo lo que todos queremos: rapear con Lin-Manuel Miranda. 
Cuando le dio vida al juego Candy Crush.
El momento en el que le alquiló un carro al actor Daniel Craig.
Cuando revivió el momento en que Donald Trump anunció que buscaba la candidatura a la presidencia de Estados Unidos por el Partido Republicano.
¿Cómo olvidar cuando se convirtió en Beyoncé y presentó su propia versión del video Lemonade?
Cuando revivió a los principales personajes de The Hobbit.
Y el mejor de todos… El momento en que Stephen Colbert se convirtió en nuestro horóscopo.