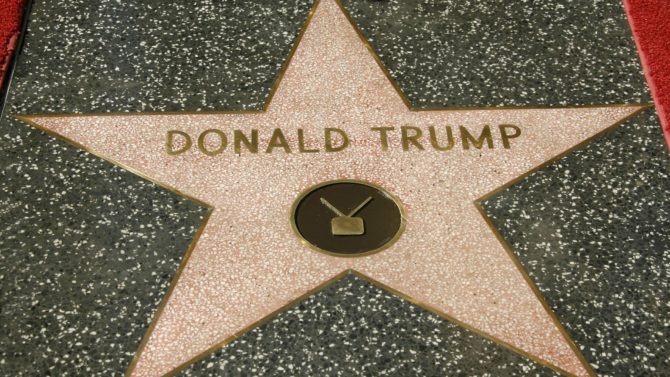 La estrella del candidato presidencial republicano Donald Trump fue víctima de un acto de vandalismo este viernes 29 de enero. Al famoso ornamento, ubicado en el Hollywood Walk of Fame, le dibujaron una esvástica con aerosol negro.
El viernes, un usuario del sitio web Reddit publicó la imagen de la estrella, ubicada en el famoso Hollywood Boulevard. En la fotografía, se puede observar el símbolo nazi dibujado, extrañamente, al reverso. Sin embargo, quienes visitaron la famosa locación el sábado por la mañana, ya se encontrarían con la estrella completamente limpia e intacta, sin evidencia alguna de vandalismo.
Aquí puedes ver la imagen:
Trump recibió su estrella en 2007. Meses después, alguien dibujó una enorme letra X en amarillo sobre la prestigiosa placa.
Pero el anfitrión de The Apprentice no ha sido el único en sufrir este tipo de actos da vandalismo. En diciembre, alguien escribió la palabra "violador" sobre la estrella del comediante Bill Cosby, luego de la polémicas acusaciones de abuso sexual en su contra.
The Hollywood Chamber of Commerce es el organismo encargado del famoso Walk of Fame. Este grupo se encarga de inducir a aproximadamente 24 celebridades al año. Hasta los momentos, el organismo no ha brindado ningún tipo de comentarios al respecto.