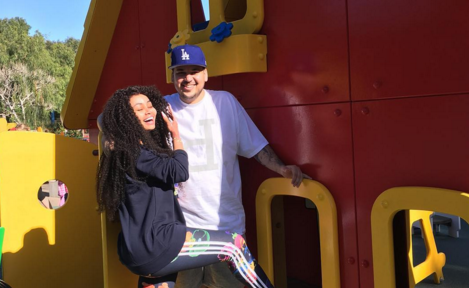 Parece ser que la modelo Blac Chyna es una buena influencia en la vida del único varón en el clan Kardashian-Jenner. Rob Kardashian publicó dos videos en su cuenta de Instagram donde confirma que su novia es además su instructora personal.
Kardashian está tratando de adelgazar para el cumpleaños de Chyna, que se celebrará este 11 de mayo, lo que le da unas cinco semanas para entrenar bajo su tutela. En el video que puedes ver a continuación, Rob dice que su meta es llegar a pesar 200 libras. Al momento de la grabación de este clip el famoso pesaba 248.
En este otro video Rob, de 29 años, termina uno de sus primeros entrenamientos con la modelo.
Hace poco más de un año se reportó que el hijo de Kris Jenner y del difunto abogado Robert Kardashian estaba sumergido en una profunda depresión a causa de su sobrepeso, tanto así que dejó de ser parte del reality show de su familia, Keeping up with the Kardashians, para evitar ser visto.
Recientemente fue diagnosticado con diabetes. Sin embargo, desde que comenzó su relación con Chyna ha regresado a la palestra pública y, a través de videos como estos, se puede ver que se está esforzando por volver a tener un estilo de vida saludable.