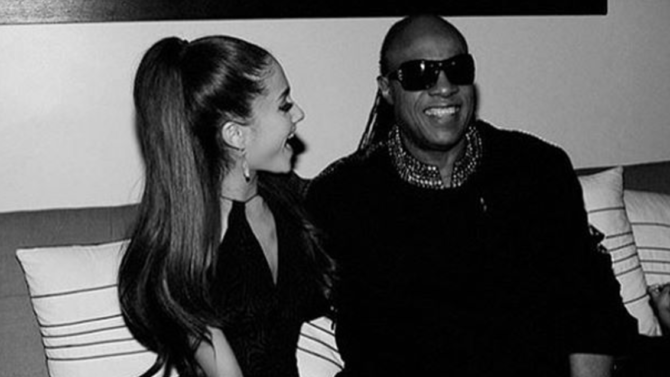 ¡Esta canción te hará bailar! Ariana Grande publicó en sus redes sociales la nueva colaboración que hizo con Stevie Wonder llamada "Faith", y que pertenece a la banda de sonido de la película animada Sing, que está pronta estrenarse.
VER TAMBIÉN Ariana Grande casi muere de miedo en casa embrujada [VIDEO]
La noche del jueves 3 de noviembre, la joven artista compartió su emoción con sus seguidores en las redes: "¡¡¡Estoy en una canción con Stevie Wonder llamada 'Faith' y sale esta noche!!!  No tengo palabras para expresar el honor que es esto o cuán contenta estoy. Más que agradecida de ser parte de esto", escribió en su cuenta de Instagram.
Tres horas después publicó una parte del audio de la canción con imágenes de la película.
"Faith" forma parte de la banda de sonido de Sing, protagonizada por las voces de Reese Witherspoon y Matthew McCouaughey y que se estrenará el 21 de diciembre en Estados Unidos, al igual que el disco.
"I got faith in you baby, I got faith in you now / And you've been such a, such a good friend of me / Know that I gotta love you somehow (love you somehow)", cantan Grande y Wonder. "I met you, hallelujah, I got faith".
La canción fue escrita por los productores de música pop Ryan Tedder y Benny Blanco. ¿Qué te parece el dueto entre Ariana Grande y Stevie Wonder?