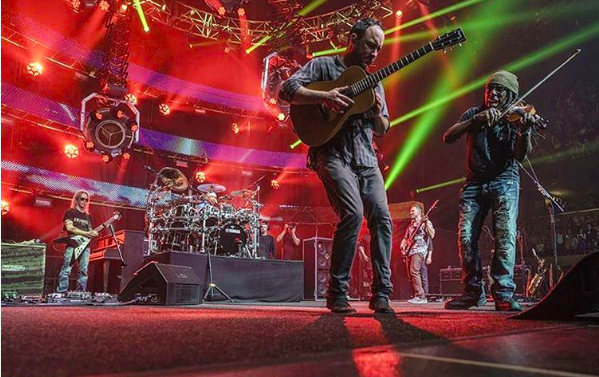 Contrario a otros artistas que han cancelado sus actuaciones en Carolina del Norte en protesta a la ley anti-LGBT, la Dave Matthews Band ha asegurado que ofrecerá el concierto pautado para el próximo 27 de mayo en la ciudad de Charlotte y que donará parte de las ganancias a organizaciones que defienden la igualdad entre personas.
La agrupación dijo en un comunicado que no cancelará su concierto que dará en el PNC Music Pavilion y que donará una parte de la recaudación a cinco organizaciones que luchan por la igualdad, como la American Civil Liberties Union (ACLU), Lambda Legal, ACLU of North Carolina, Equality NC y Time Out Youth, según información que recoge la revista Rolling Stone.
VER TAMBIÉN Maroon 5 cancela conciertos en Carolina del Norte en protesta a ley anti-LGBT
La banda, que se encuentra de gira celebrando sus 25 años en la música, escogió a estos grupos con la ayuda de NC Needs You, una organización que fomenta a los artistas a que mantengan sus fechas de presentaciones en Carolina del Norte y a aumentar la conciencia y los recursos en respuesta a la ley HB2 .
La ley HB2, aprobada en Carolina del Norte, exige a las personas transgénero que usen el baño que corresponda a su sexo de nacimiento, y no al género con el cual se identifican.
VER TAMBIÉN Los famosos rechazan las leyes anti-LGBT: ¿Sus acciones generarán un cambio?
Desde que entró en vigor esta ley, artistas como Bruce Springsteen, Pearl Jam, Ringo Starr, Demi Lovato, Nick Jonas, Itzhak Perlman y el Cirque du Soleil han cancelado sus presentaciones en ese estado.
Mientras que otros como Beyoncé, Mumford and Sons y Cyndi Lauper decidieron no cancelar sus conciertos, pero hacer donativos a activistas que se oponen a la ley.