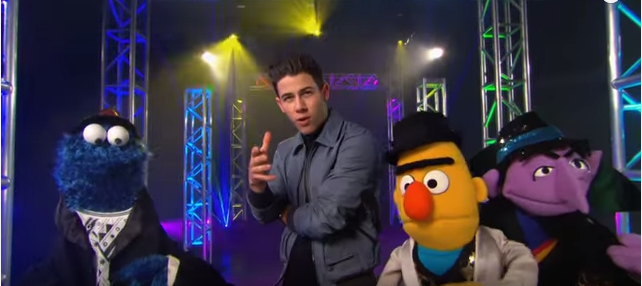 Nick Jonas tiene un sector de su fanaticada muy logrado y ahora le toca a los más pequeños conocer el encanto del cantante para aprender a identificar las formas de las cosas.
Este próximo sábado 21 de mayo Jonas convertirá a los personajes de Sesame Street en estrellas de la canción con la pegadiza "Check That Shape".
VER TAMBIÉN Demi Lovato, Nick Jonas y James Corden cantan en la calle por dinero en 'Carpool Karaoke' [VIDEO]
La canción ayuda a los más pequeños a describir correctamente la forma, los lados y los ángulos. ¿Podrías identificar un pentágono o un octágono? Tranquilo, que Nick Jonas refrescará tu memoria con un tema que no podrás parar de cantar y que tiene una vibra muy similar a su éxito "Jealous".
En el video podemos ver a Bert, Cookie Monster, y Count Count como coristas del intérprete de "Champagne Problems" ataviados con atuendos muy coloridos y festivos.
Para sorpresa de muchos, "Check That Shape", que debutará en el episodio de Sesame Street transmitido por HBO, no figurará en su nuevo trabajo musical Last Year Was Complicated, que sale a la vente el próximo 10 de junio y del que ya hemos podido escuchar "Close", "Champagne Problems" y "Chainsaw".
VER TAMBIÉN Demi Lovato y Nick Jonas cantarán en los Billboard Music Awards 
Nick Jonas próximamente saldrá de gira con Demi Lovato en el Future Now Tour que arranca el 29 de junio en Atlanta, Georgia, y que se extenderá hasta el 17 de septiembre, cuando culmine sus conciertos en Inglewood, California.