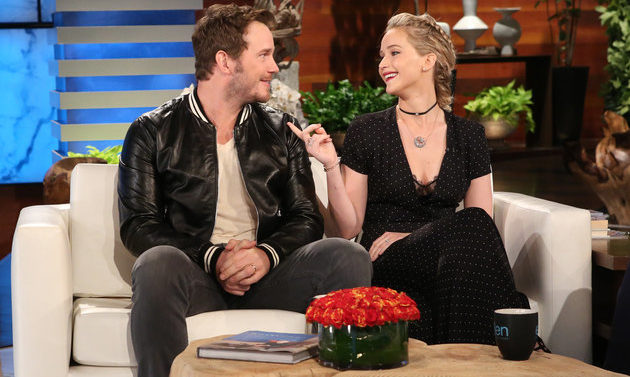 Chris Pratt y Jennifer Lawrence revelaron sus talentos ocultos en The Ellen Show. Lawrence cantaba en el set "Do you believe in love after all" de Cher, pero era su única canción.
"No me di cuenta que lo hacía, debe ser como un tic, como un tic fastidioso", dijo la actriz de The Hunger Games. Pero comentó que su compañero de elenco no rapeaba nada mal.
VER TAMBIÉN:Jennifer Lawrence: "Si eres inmigrante… o mujer, ¡sé fuerte!"
"Estoy empezando a sudar", comentó Pratt porque lo estaban poniendo nervioso. El actor explicó que iba a empezar a sudar en su 'moob' (man boob). "Creo que es por el desodorante, no es por presumir, me lo pongo, me lo puse hace un par de días", explicó Chris, diciendo que el sudor necesita salir por otra parte y en su caso, le sale debajo de su pecho.
Para finalizar el segmento, Lawrence dice que la familia de su amigo Chris la hace sentir miserable. Anna (Faris) es chistosísima, Jack es un genio, "están tan enamorados que parecen una película de Nicholas Sparks", expresó.
RELACIONADO: Justin Timberlake y Ellen DeGeneres protagonizan la nueva 'Strange Doctor' [VIDEO]
Lawrence y Pratt se encuentran promocionado su más reciente película Passsengers, que se estrenará en cines el 21 de diciembre.