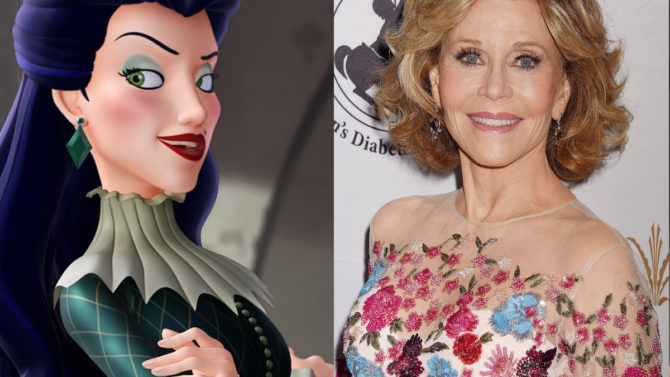 Tras el éxito de las series animadas Elena of Avalor y Sofía the First, Disney Channel está preparando el lanzamiento de una película televisiva protagonizada por ambas princesas. La cinta se llama Elena and the Secret of Avalor y contará con la actuación especial de la legendaria actriz Jane Fonda.
VER TAMBIÉN Serie de Disney 'Elena of Avalor' tendrá una segunda temporada
Fonda dará voz a Shuriki, una hechicera malévola que aprisiona a Elena en su amuleto mágico. El 11 de octubre se dio a conocer la primera imagen del personaje animado, que luce una cabellera negra muy larga y facciones angulares que en nada se asemejan a las de la actriz de carne y hueso.
El elenco de esta producción animada también está conformado por Ariel Winter, quien le da voz a la princesa Sofía, Jenna Ortega, Ana Ortiz, Sara Ramírez y Carlos Alazraqui. Aimee Carrero, quien da voz a la primera princesa latina de Disney, cantará en la película "My Time", el reconocido himno de Elena.
VER TAMBIÉN Lin-Manuel Miranda y Dwayne "The Rock" Johnson cantan el tema principal de 'Moana' [VIDEO]
Elena and the Secret of Avalor será estrenada simultáneamente a través de los canales Disney Channel y Disney Junior el próximo 20 de noviembre a las 7 de la noche, ET/PT.