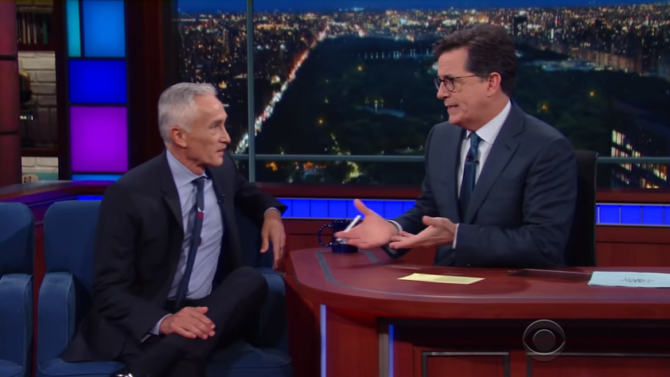 Jorge Ramos estuvo en The Late Show with Stephen Colbert discutiendo sobre una persona que está en boca de todos: Donald Trump.
Para Ramos, no es que haya sido ofensivo usar el término "bad hombres" durante el tercer debate presidencial, sino que se hizo como un estereotipo. "La comunidad inmigrante está llena de buenos hombres, no de bad hombres", dijo el presentador del noticiero Univision.
El periodista también encontró similitudes entre Trump y Fidel Castro, por ejemplo, que a ambos no les gusta la prensa, y que tiene guardaespaldas para sacarte de algún lugar. Ramos se refirió a una conferencia de medios, en la que fue expulsado por Trump en agosto de 2015.
Ramos cree que Trump ha fomentado el racismo y a grupos supremacistas, de manera que ahora expresan sus prejuicios públicamente y antes lo hacían solo dentro de sus sectas, o se lo decían a sí mismos.
Jorge Ramos explica además que entre los planes del candidato republicano se encuentra deportar a 11 millones de indocumentados en dos años, lo que equivale a 15,000 personas al día y en realidad es un proyecto muy difícil de lograr.
Mira la entrevista completa con Stephen Colbert: