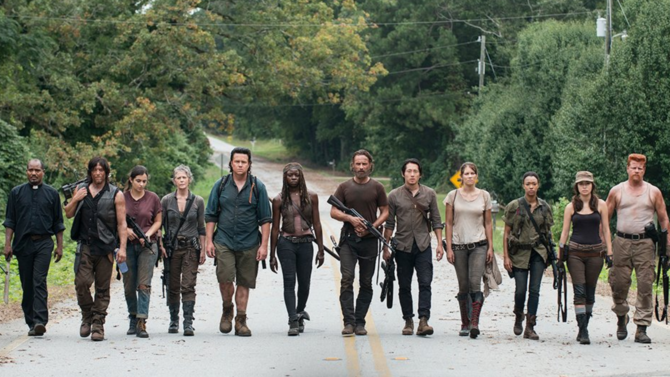 A menos de una semana para el estreno de su séptima temporada, el canal AMC anunció que la serie The Walking Dead ha sido renovada para una octava entrega.
La nueva temporada de la exitosa serie del apocalipsis de zombies contará con 16 episodios y debutará a fines del 2017.
VER TAMBIÉN The Walking Dead: Norman Reedus dice que "el mundo está al revés" en séptima temporada
Aunque la audiencia bajó un poco durante la sexta temporada, la serie basada en los cómics de Robert Kirkman continúa siendo una de las más populares de la televisión. En la última temporada el promedio de audiencia fue de 13.15 millones.
Hace unos meses, el mismo Kirkman, también uno de los productores ejecutivos del show, especuló con que habría al menos 12 temporadas.
La séptima temporada de The Walking Dead estrena el domingo 23 de octubre a las 9/8 centro. A su término comenzará un especial en vivo de 90 minutos de The Talking Dead, conducido por Chris Hardwick en el que artistas de la serie debaten los momentos más cruciales del episodio.
En esta ocasión estarán como invitados los actores del último episodio de la sexta temporada: Andrew Lincoln, Norman Reedus, Steven Yeun, Lauren Cohan, Danai Gurira, Michael Cudlitz, Sonequa Martin-Green, Chandler Riggs, Josh McDermitt, Christian Serratos, Ross Marquand, y Jeffery Dean Morgan.
A continuación te dejamos un avance de lo que veremos el próximo domingo en The Walking Dead: