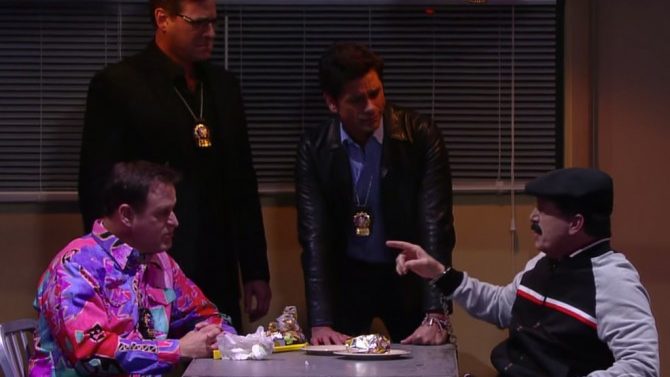 John Stamos, Bob Saget y Dave Coulier estuvieron como invitados especiales en The Late Show With Stephen Colbert, luegar donde presentaron su nuevo "show" titulado Full House Nights. Antes de que salten de la emoción deben saber que todo esto se trató de un sketch orquestado por la producción de Colbert.
En este nuevo programa ficticio se descubre que el tío Jesse, Danny Tanner y Joey se convierten en detectives cuando cae la noche para resolver los crímenes más sonados de la ciudad de San Francisco.
Los actores presentaron una escena especial en el cual también vemos la actuación del conductor del late night como Dimitri. El video empieza con una nueva versión del popular tema de la serie familiar y luego se puede ver a los chicos interrogando a Colbert, quien hace el papel de un narcotraficante. El tío Jesse le grita y lo quiere golpear mientras Danny le da consejos de cómo puede cambiar su vida. Lo mejor de todo es cuando Joey hace su imitación de Bullwinkle y Scooby Doo para asustarlo.
En otras buenas noticias, esta semana se confirmó que Fuller House tendrá una segunda temporada en Netflix. El spin-off acaba de ser estrenado el viernes 26 de febrero.
Acá el sketch completo, no te lo pierdas, pues las gemelas Olsen hacen un pequeño y cómico cameo: