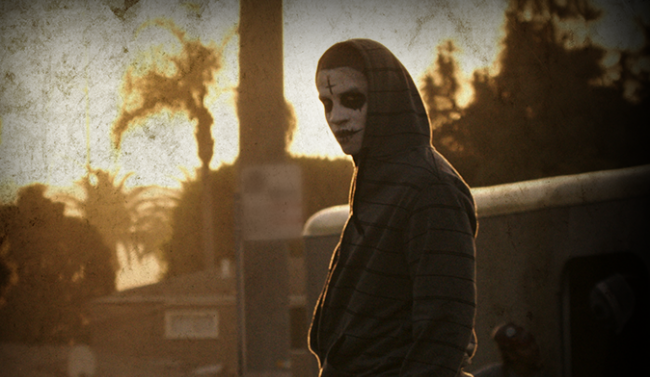 Horror films like 'The Purge' see huge spike in ticket sales from Hispanic moviegoers.
This summer has been a dismal one for the box office, with big budget tentpoles drastically underperforming and ticket sales down 24% from last year. It seems like nothing has been able to draw audiences away from World Cup madness and premium cable and into the movie theater, with few notable exceptions.
One of those exceptions was last weekend's "The Purge: Anarchy." 

The sequel to last year's "The Purge" earned $28 million in its opening weekend and is on track for a $50-$55 million domestic total, according to tracking. Not bad for a film modestly budgeted at $9 million.
"The Purge: Anarchy" has also already claimed the title for top-grossing horror film of the year. And like most films of the genre, it could count on one secret ingredient for its box office success: the backing of Latino moviegoers, who are going to the movies twice as often as any other demographic, and they're 80% more likely to rush out to a film's opening weekend.
For this sequel in particular, Latinos made up about 36% of the audience for the film's debut. That number is consistent across most micro-budget horror films.
Cultural expert Christopher Chacon recently offered his insight to Fusion as to why this demo in particular is drawn to horror in an article titled "Why Latinos Love a Good Scare." "As Latinos, we have a great ancestry of indigenous cultures that had an awareness or sensitivity to the supernatural," he said. "I have friends who are very hardcore Catholic, and want nothing to do with that stuff, but the fact that they don't want anything to do with it implies that they believe it's there. In some ways, fear drives our existence."
All of this spells good news for producers and studios in the micro-budget horror business, particularly "The Purge: Anarchy" producer Jason Blum and Universal, who distributed the film. Blum inked a 10-year deal with Universal on Monday off of the success of the latest "Purge" film. The Hollywood power player, who got his start with the blockbuster success of "Paranormal Activity," is already well-aware of the importance of the Hispanic audience to his bottom line. In 2011, he announced plans to make a Latino spin-off of his "Paranormal Activity" franchise. The resulting film, 2013's "Paranormal Activity: The Marked Ones," grossed well over $30 million at the box office on a $3 million budget.
Blum is incorporating more Latino themes and stars into his upcoming projects. "Insidious: Chapter 3," which just started principal photography and is due in theaters next spring, has cast newcomer Ashton Moio as Hector, a love interest to the female lead (Stefanie Scott) and veteran actor Ruben Garfias as Hector's father. "Ouija," based on the popular board game and out October 24, 2014, has Cuban-Puerto Rican actress Ana Coto in the lead and centers on a legend — like La Llorona, the Weeping Woman — that has been popular with Latinos for generations. Blum is also taking a riskier bet with "The Boy Next Door," a higher-budget project starring Jennifer Lopez as a divorced woman whose relationship with her teenage neighbor (Ryan Guzman of "Step Up: All In" fame) goes horribly wrong.
Fueled by ticket sales to Latino audiences, micro-budget horror has been a lone bright spot in an industry grasping for air. With budgets well under $10 million and returns consistently above $50 million from box office alone (not counting revenue from the ever-expanding digital and VOD platforms), this formula has become one of the few safe bets in the studio system.
What Blum and other micro-budget horror producers have woken up to in the past few years is that appealing to a Latino audience is big business. It seems only a matter of time before filmmakers of all stripes follow his lead.