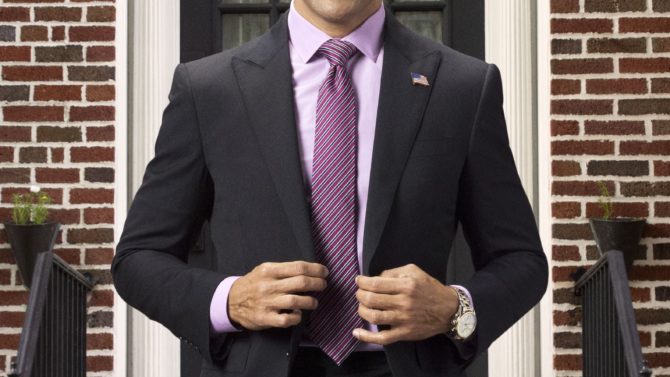 Mark Consuelos is celebrating, but not for reasons you may think. If we were living in the Amazon original series "Alpha House," he'd be throwing a major fiesta, being that the GOP just seized control of the House and Senate for the first time in eight years in the real-life mid-term elections on November 4, 2014.
In the series, which premiered its entire second season on Amazon Prime on October 24, Senators (and townhouse roommates) Gil John Biggs (John Goodman), Robert Bettencourt (Clark Johnson), Louis Laffer (Matt Malloy) and Andy Guzmán (Mark Consuelos) face fierce re-election battles against strong Democratic challengers with a sense of humor.
Consuelos' character, for his part, has presidential ambitions for the 2016 election. Lucky for him, he has a billionaire Cuban heiress girlfriend to fund his campaign. Now, if only he could figure out if he's actually a sex addict or not…but for Consuelos, that's part of the fun.
"I kind of live vicariously, in a very funny and innocent way, through Andy Guzman," Consuelos tells Variety Latino. "He's a lot of fun to play and gets in so much trouble. He always ends up getting out of it somehow."
If Consuelos sounds genuinely fulfilled with life it's because he is. He's on one of the hottest new shows around, "better than any show I've ever been," in his words, and he's got three beautiful kids with wife Kelly Ripa.
In 2007, the two formed Milojo Productions, through which they nurture their shared love for storytelling. Their latest production is "American Cheerleader," a documentary with unprecedented access following the journey of two high school cheerleading teams vying for the National High School Cheerleading Championship title.
Mark called us to give us the inside scoop on season 2 of "Alpha House," why he's still madly in love with Kelly, and why playing Andy Guzmán is the most fun he's ever had.
You've worked in traditional TV so much. How is this experience special?
You don't have to worry about what night you're on or what night your competition is on, or what your lead-in is, you take all that worry about ratings and all that stuff and you just concentrate on doing good work. In that way it's been very, very different in a good way. As far as the production value, it feels just as good or better than any show I've ever been on.
How is everyone's chemistry on the show?
It's great, it's a short season, it's only 10 episodes and we shoot an episode a week so it's been a grind, put it that way. The relationships with everybody, including the crew, has just been fantastic. It's a comedy so inherently it just puts everyone in a good mood; some of the stuff is really funny. There's so many great, seasoned actors on set, everyone is really professional so it just makes the process that much more enjoyable.
Has working with John Goodman taught you something about comedy?
He's taught me that he's one of the best [laughs]. They're all really, really funny so I just kind of try to keep up. And the writing is there so that helps.
Where is your character at in Season 2, for those who haven't yet seen the whole thing?
He has aspirations for the White House and he's really engaged, you find that out right off the bat in the first episode. But he has a lot of problems just focusing on one woman, not unlike some other politicians you could probably point out. They actually tell him that he's a sex addict, so he's trying to come to terms with that, if that's a real thing or he just can't make up his mind.
Any similarities between you and Andy?
We're both about 5'8," we wear the same suit [laughs]. No, I'm married for almost 20 years, and he's like that single buddy, so I kind of live vicariously, in a very funny and innocent way, through Andy Guzman. He's a lot of fun to play and gets in so much trouble. He always ends up getting out of it somehow.
What's something surprising about the world of politics that you've learned through the show?
So many politicians spend so much time trying to get re-elected; that takes a lot of time. I think people at home often think that it's just them trying to work for the constituents but unfortunately there's just a lot of time spent on getting re-elected, which is sometimes not in line with everyone's best interest.
Senator John McCain has a cameo this season. What's he like?
There's a cameo from him in season 1 also. We get a lot of cool people who just come out and play and have some fun on the show. I didn't get a chance to work with him but he's great, nice guy.
Tell me about this producer side of yours.
Initially it was just to keep busy in between acting jobs and we would produce things here and there. We thought it would be a good idea to open up a company and try to make a business out of it. It's been going really, really well and we've gone back to all these sports docs. That's a passion of mine. I love exploring the relationship that people have to sports; they can be a metaphor for life and you learn a lot from them. And as far as the cheerleading world, it wasn't something that I really knew too much about. The thing I learned is that it's very much a sport. These young ladies are athletes in every sense of the word, they're not just out there for football games, these are competitive teams, they travel all over the country and they put a lot of time and commitment into it. And the coaches that we came across, especially for "American Cheerleader" were amazing, inspirational people that you have that your kids at some point in time come across in some sort of mentorship role. People love it. Obviously it's an underserved sport, so people are finding it on iTunes and other places and loving it.
Your eldest is 17. Where is he at in the whole college process?
We're going to start looking at schools soon, he still has a year and a half left at home, I'm hoping it slows down. He's mentioned that he may want to stay close to home and maybe go to school in the city, maybe NYU for film school or something like that.
Your "boo" (as you call her on social media) just celebrated a birthday. Do you find that a woman gets more beautiful and sexier as time goes by?
Oh for sure… I'm crazy about my wife. I'm extremely happy.
And speaking of things you're crazy about…let's play a game of "Mark's Favorite Things." You ready?
Let's do it!