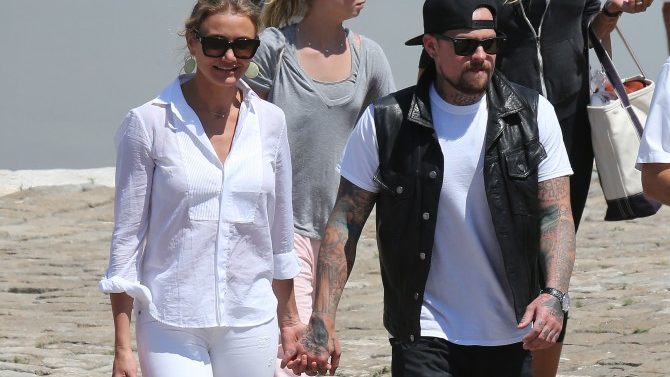 Update: It's official Cameron Diaz and Benji Madden are married!
According E! Online, the "Annie" actress, 42, and the musician, 35, tied the knot inside her Beverly Hills home. There were reportedly about 100 guests that included her best friend, Drew Barrymore and sister-in-law, Nicole Richie, as bridesmaids.
A white tent was set up in her backyard for the wedding reception.
Also in attendance were Gwyneth Paltrow, producer Jeffrey Katzenberg (Diaz starred in DreamWorks Animation's "Shrek" series) and Drew's husband, Will Kopelman.
News of their engagement happened not too long ago with reports saying that The Madden Brothers rocker asked for her hand in marriage days before Christmas.
According to People, a source informed them that Diaz celebrated her bachelorette party on Saturday night with girlfriends at a Los Angeles-area hotel while Madden and Diaz were spotted at II Cielo over the weekend where, "They were with a small group and had a really romantic table setting with rose petals and candles."
Earlier this week, party rental trucks and white flowers were delivered to the Beverly Hills home. Also spotted was renowned wedding planner Yifat Oren, who has been the master-mind behind Reese Witherspoon's, Anne Hathaway's and Drew Barrymore's weddings.
The couple was first linked together back in May of 2014.