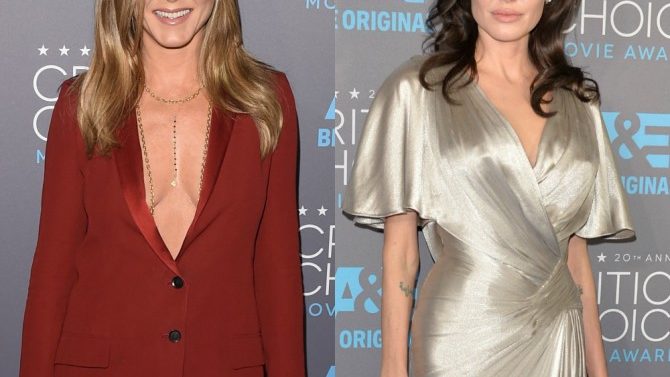 Jennifer Aniston and Angelina Jolie walked down the same red carpet on Thursday, Jan. 15 at the Critics' Choice Awards and were completely stunning.
The actresses who have been pinned against each other since that one incident 10 years ago did not exchange words but Aniston, 45, had nothing but sweet things to say towards Jolie, 39.
"I think that's slowly coming to an end. I really do," commented the "Cake" actress to Entertainment Tonight about the reported rivalry.
She even went on to add that she was a fan of Jolie's movie, "Unbroken" stating, "I mean, that movie is so beautiful and wonderful and she did such a gorgeous job. I think that it's time people stop with that petty B.S. and just start celebrating great work and stop with the petty kind of silliness."
That petty silliness involved Jolie entering into a relationship with Brad Pitt after the wrap up of "Mr. & Mrs. Smith" and falling for each other while Pitt was still married to Aniston.
But now even a decade later people and tabloids continue to spark up rumors of the leading ladies having all this hatred towards each other. Aniston, and we, think it's time to move on.
"It's just tiresome and old. It's like an old leather shoe," added Aniston. "Let's buy a new pair of shiny shoes."
Now Aniston is happily engaged to Justin Theroux and Pitt and Jolie officially wed in a surprise wedding in August of last year.
No drama here.