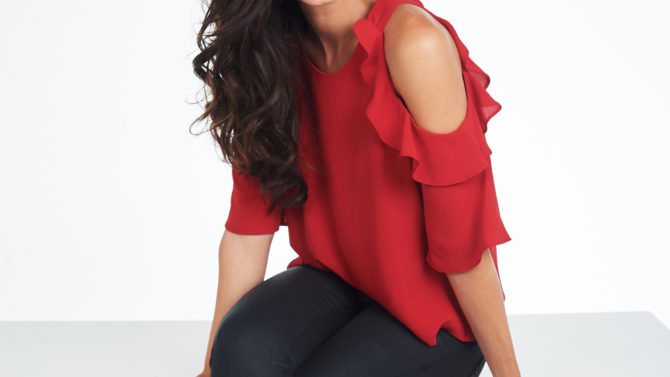 Alicia Sanz, one of Variety Latino's 2016 "Top 10 Latinos to Watch" honorees, was born and raised in Spain, but the petite brunette now calls Los Angeles home. She began acting at a young age in TV shows and movies in her native Ceuta, located in Africa's north coast. Sanz, who had multiple roles in Spanish-language productions including La pecera de Eva, Gavilanes, and Bandolera, can still recall the moment she knew she wanted to be an actress vividly.
"I remember the day I knew I wanted to be an actress very well," Sanz said. "It was raining that day and I was watching a movie with my mom after lunch. I remember asking her how I could get inside the TV. I didn't really understand how it all worked so I was trying to explain to her that I wanted to be where those people were in the movie.
Nearly every day after that, I told my mom I wanted to learn how to do that. So she took me to my first acting class when I was around 7 or 8. It was the only theater group that we had in Ceuta. I was the youngest one in the class and my mom came with me to every class. I still didn't really understand the process, but I knew that I loved wearing costumes, dancing and working with people. It was so much fun."
Growing up, she looked no further than her homeland for inspiration. She admits she's admired Penelope Cruz since the start of her career and she hopes to follow in her footsteps.
"I'm from Spain and I grew up watching Penelope Cruz. She was really the first big star to come from the same country as me and make it outside of Spain. She was a big inspiration to me back then and even today because now I know what it takes. We really had to leave everything behind and that's what I did. I reached this point in my career where I had to choose where I wanted to be. I was getting offers for work in Spain but I knew I had to take a risk. I admire people who take risks, they inspire me."
That is why she left everything in her native country and came to the United States, following her dreams of becoming an international actress. When making plans to move to the United States, her agent asked that she work on learning English. Though she took a few lessons with a teacher, Sanz is mostly self-taught.
"I watched Sex and the City and listened to NPR News, even though I didn't understand anything they were saying. I knew though that with hard work, one day I would understand everything they're saying. I really immersed myself into the American culture to be able to be authentic when I'd speak English," Sanz says.
In the US, the 28-year-old landed her first role in the dark Robert Rodriguez series, From Dusk Till Dawn: The Series in a five episode arc. She starred opposite Eiza Gonzalez (who is also on our '10 Latinos to Watch' list this year) in the role of immigrant-turned-culebra Paloma Gutierrez. This was followed by a role in the Freeform network series Baby Daddy.
In early 2017, Sanz will star as Paula Games in the new Fox series, Shots Fired. The drama follows the media storm set off when an African American cop kills a white teenager in a small North Carolina town. Followed by a role in the James Cox directed drama Billionaire Boys Club opposite Kevin Spacey, Emma Roberts, and Ansel Elgort.
"This show is about something we're seeing in the news. I think it is necessary that we talk about the racism in our country right now. I'm very curious to see how people will react to it," she says.
The girl that left Spain with suitcases full of dreams and hopes, is now making those dreams come true in America. "One of my co-stars is Stephen Moyer and I remember watching him on True Blood when I lived in Spain. I didn't speak English at the time but I really liked that show. The first time I met him I told myself, 'I guess this is all really happening.'"