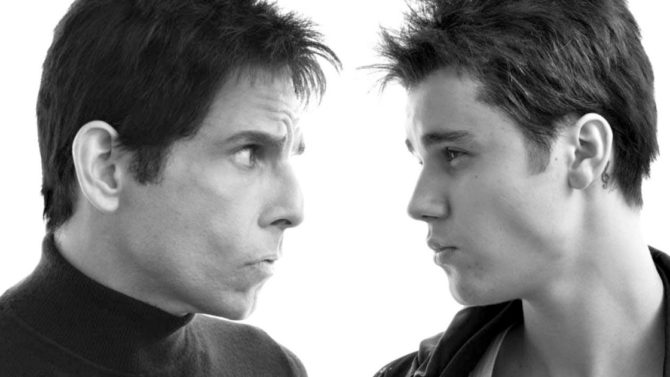 Ben Stiller is keeping plot details of his new movie Zoolander 2 under wraps but he did share a few details about Justin Bieber's character.  In an interview with Jimmy Fallon on The Tonight Show Monday night, Stiller confirmed that Bieber does, in fact, die in one of the early scenes of the film. The actor explained that he always wanted to kill Bieber on screen, and even wrote the death scene in the original 2010 script.
"We wrote the first script for it in 2010, and he was in it, but he was young, new Justin Bieber. But now he's this cultural lightening rod so his death in the movie, people just fill it—it's sort of like a Rorschach Test for people."
The actor also stopped by the Today show Tuesday morning where he revealed to Matt Lauer that he asked former first lady Laura Bush to appear in the sequel. She politely turned down the offer but had she accepted, Stiller was planning to cast her in an orgy scene.
"There is a group of people that Hansel, Owen [Wilson's] character, is having a relationship with —a group of people— and I was going to ask her to be a member of that group," Stiller said.
Laurer clarified: "'Group' is the key word here. You [almost] asked Laura Bush to be part of an orgy scene in Zoolander 2."
"Yes. That is correct," Stiller said. "When the reality … came out of my mouth I realized I was insane."
Zoolander No. 2 opens in theaters on Friday, Feb. 12 .