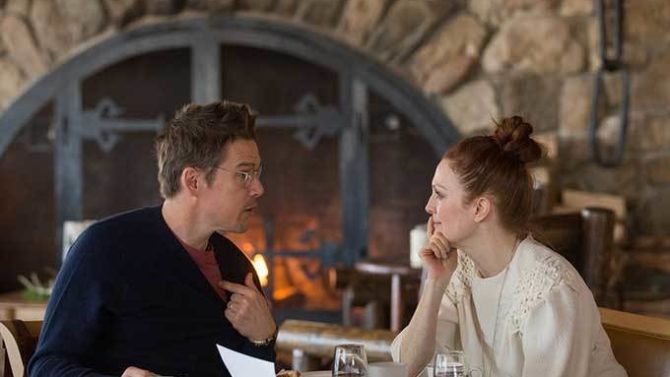 Ethan Hawke, Julianne Moore and Greta Gerwig star in the new romantic comedy Maggie's Plan. The film, described by critics as witty, hilarious and insightful, was written and directed by Rebecca Miller.
The first official trailer was released on Wednesday by Sony Pictures Classics and sheds light on a quirky and awkward love triangle. Hawke plays an anthropology professor and struggling novelist, whose marriage to a critical theorist (Moore) falls apart when he engages in an affair with Maggie Hardin, a naive and practical thirty-something old.
But, not all love affairs are created equals. Watch the trailer below to see what happens when feelings begin to change and a once passionate affair loses steam:
Maggie's Plan also stars Bill Hader, Maya Rudolph, Monte Greene and Travis Fimmel. Miller produced the film with Rachael Horovitz and Damon Cardasis.
The film was shot around New York State, taking full advantage of the incredible views the city has to offer. "I'm a third generation New Yorker so I have this deep love for the city," Miller said to People magazine. "The story has several love stories in it but one of them was certainly my own with New York City."
Maggie's Plan hits theaters May 20.