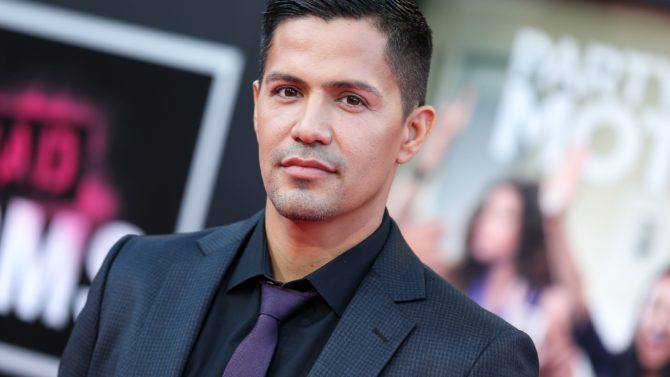 Jay Hernandez became everyone's dream boyfriend after starring alongside Kirsten Dunst in 2001's Crazy/Beautiful. So it was Mila Kunis who audiences envied after she hooked up with Hernandez in the laugh-out-loud comedy Bad Moms, which was just released on DVD and Blu-Ray this week.
Variety Latino spoke to the 38-year-old about what he learned from working with Kunis, Kristen Bell, and Christina Applegate, whether or not he wants in on the spinoff Bad Dads, and what the odds are that we could see his character Diablo on Suicide Squad return for more movies.
"Those girls are crazy," Hernandez told Variety Latino about his Bad Mom co-stars."Watching them work with what's on the page and then watching them improv and get loose, was like taking a class. I haven't done that much comedy so to watch these pro's do it on the set was pretty fun. I'm imagining the DVD will have a pretty extensive gag reel."
Adding, "I've wanted to do a comedy for awhile and it's a whole different thing being on a comedy set. I loved the experience and I can't wait to do it again. I'm looking for another comedy to do for sure."
In October, STX Entertainment announced there wouldn't be a sequel to Bad Moms but instead they'd focus on a spinoff entitled, Bad Dads. Although Hernandez played a good dad to his daughter, he would love to participate in the new film.
"I can be a bad dad," he said. "I don't know how that would work out [with the existing storyline]? Maybe I can have a bad experience or something? I'll figure something out. It would be cool, though. I would love to come back."
Hernandez is known for being extremely private about his personal life and it's not even known publicly if he has kids or not. He attended the red carpet premiere of Bad Moms with his wife of ten years, Daniella Deutscher.
"Yeah, all that stuff that they covered in the movie I think women have been wanting to see for awhile and I think they are aware of it," Hernandez said when asked if Deutscher could relate to any of the bad moms. "Sort of all the different versions of moms, like that scene when everyone is coming to school to drop their kids off. That pretty much happens across the country almost every morning. That's why I thought it was so funny and so poignant and why so many people responded to it was because in many ways it's all so true."
Another big hit in 2016 for the actor was Suicide Squad where he played El Diablo. Although his character dies in the film, he thinks there are ways he can still come back.
"You know what, let's just say he's a metahuman. What are you going to do? There are possibilities there. I'm not saying anything but, there are some possibilities. I haven't heard anything yet from anyone but even if I had, do you think I could tell you? [laughs]"