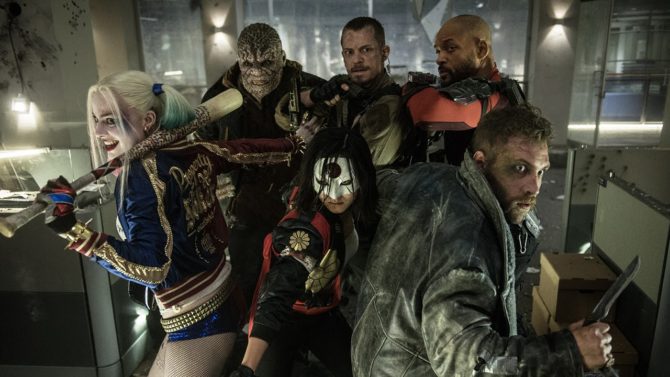 New footage of Suicide Squad will be unveiled at the MTV Movie Awards, the network announced Friday. Will Smith, set to receive this year's Generation Award, will be joined by costars Jared Leto, Margot Robbie, and Cara Delevingne to introduce the sneak peak.
Written and directed by David Ayer, Suicide Squad centers around a team of the world's most dangerous supervillains assembled by the U.S. government to carry out top-secret missions to defeat an enigmatic, insuperable evil entity. U.S. intelligence officer Amanda Waller assembles the group of disparate, despicable individuals who have nothing to lose.
The film also stars Joel Kinnaman, Cara Delevingne, Jay Hernandez, Jai Courtney, Ike Barinholtz, Scott Eastwood, Adam Beach, Karen Fukuhara, and Viola Davis.
Ayer also wrote the screenplay. Zack Snyder and Deborah Snyder are executive producing along with Colin Wilson and Geoff Johns.
Smith, a 17-time MTV Movie Awards nominee and five-time winner, will be honored with the Generation Award for his achievements in film and television.
"Will Smith and MTV have grown up together and share a very cool history," executive producer Casey Patterson said in a statement. "MTV was a part of every phase of Will's career and he has been a huge part of what defined the MTV culture from the beginning. From TV's The Fresh Prince of Bel Air, to his music and amazing movies, Will is the voice of a generation and not afraid to use it. The 25th anniversary of the Movie Awards is the perfect year to honor #BIGWILLIE as only MTV can—with lots of big surprises in store."
The 2016 MTV Movie Awards airs Sunday, Apr. 10, at 8 p.m. ET.