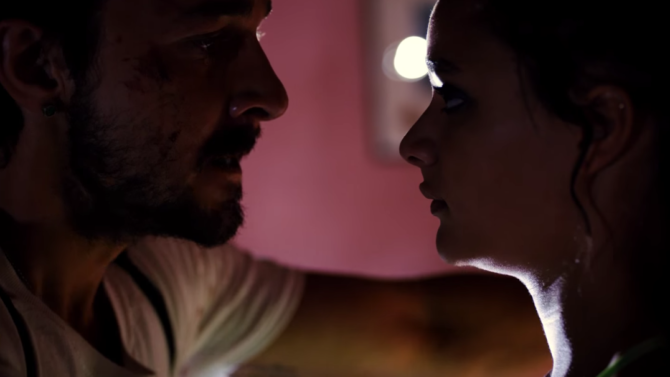 The second trailer for Andrea Arnold's American Honey was released on Wednesday morning. The coming-of-age drama follows a young runaway named Star (played by Sasha Lane) who takes off with a young group of kids who travel the country surviving by selling magazine subscriptions. While on this wild adventure, she unexpectedly found love with a guy named Jake, played by Shia LaBeouf.
The trailer, which features Bruce Springsteen's Dream Baby Dream, shows Star and Jake's relationship bloom with America serving as a beautiful backdrop. "Do you have dreams?, Star asks Jake and indirectly viewers as she loses herself into the group's lifestyle of hard partying and law-bending.
He replies, "No one's ever asked me."
Arnold spoke to Indiewire about why she chose to focus on traveling magazine crews in the film at the Cannes Film Festival where it won the coveted Jury Prize award.
She said, "It was a New York Times article describing the world of the magazine crews. There was no story there—everything from then on was my imagination and partly what I learned—but that was the nut that started me of wanting to do something about it. There are still a lot of crews who are doing that job and it's a bit like people who stop you [on the street] and try and get you to buy things for charity. You're not really buying the magazine. You're buying the person who is selling you the magazine. That's what you're selling. You're selling yourself. It's actually really hard work."
American Honey opens in theaters on September 30.