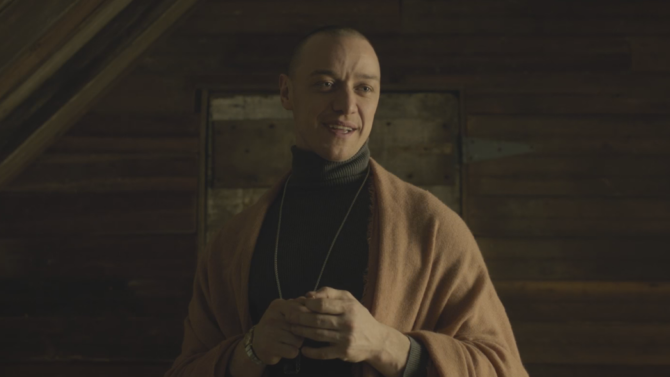 James McAvoy is playing a role unlike any he's ever played before in the new M. Night Shyamalan thriller, Split. He stars as Kevin, a mentally disturbed man with 23 identities living inside his mind that his psychologist Dr. Fletcher (played by Betty Buckley) knows about. But there's one of his multiple personalities that he's got tucked away that is worse than all the others.
Kevin, or one of his other identities, decides to abduct three young schoolgirls by hijacking their car. He locks them in his dark and dreary home with no windows to speak of. One of his abductees Casey (Anya Taylor-Joy) noticed fresh flowers keep popping up around the house, though the trailer doesn't really get into the significance behind it except that they make her feel like they may be important to him.
"An individual with multiple personalities can change their body chemistry with their thoughts, Dr. Fletcher says frantically in the trailer to a colleague. He responds, "What will happen when he unlocks the potential of his brain?" She responds, "There is no limit to what he can become."
The trailer ends with talk of "The Beast" and how real he is with one of Kevin's personalities, a nine-year-old boy named Hedwig telling Casey, "He's done awful things to people and he'll do awful things to you."
Split opens in theaters on January 20, 2017.