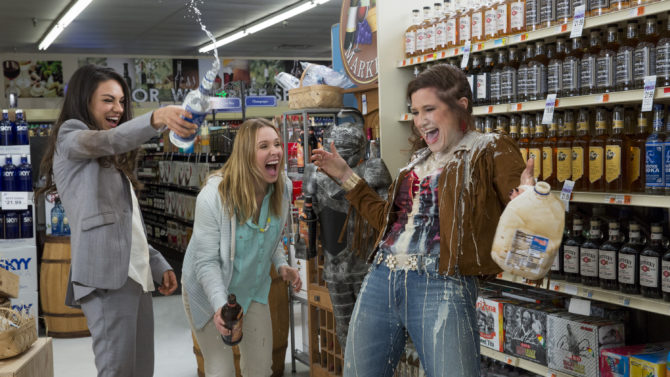 People say there are no such things as good moms or bad ones, but you'd never be able to tell that by watching the new trailer for Bad Moms. Amy Mitchell (Mila Kunis) puts her family first, second, and third. But her man-child husband, high-maintenance kids, and idiot boss are taking a toll. She gives and gives, and gives and gives, and then gives a little more, but it's never enough.
When the alpha moms Gwendolyn (Christina Applegate) and Stacy (Jada Pinkett Smith) at her kids' school push her too far, Amy finally snaps. Good Amy becomes Bad Amy really fast — and she doesn't go alone. Teaming up with two other misfit moms Carla (Kathryn Hahn) and Kiki (Kristen Bell), Amy gets a jolt of freedom that shakes up her life and might even make her a better mom.
This is the second time Kunis and Bell star in a film together. The duo co-starred in 2008's Forgetting Sarah Marshall.
The Jon Lucas and Scott Moore directed comedy also co-stars David Walton (About a Boy), Annie Mumolo (The Boss), singer Kesha, Emjay Anthony (Chef), and Oona Laurence (Southpaw).
Bad Moms opens in theaters on July 29.