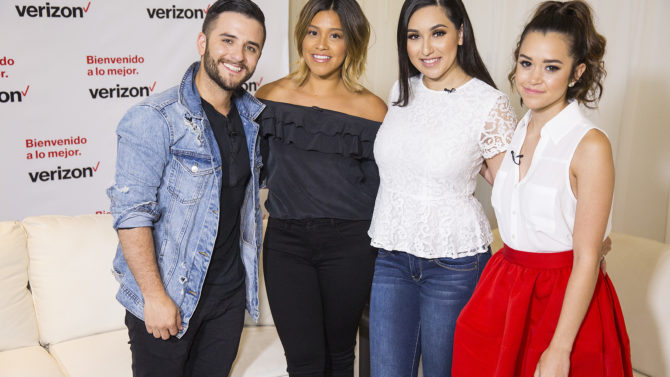 Gina Rodriguez may be a Golden Globe-winning actress with a busy schedule that includes traveling to international shooting locations, business meetings with major network and movie studio executives, as well as multiple mile runs with her pup Casper. But no matter how slammed her schedule is, the petite (now) blond always makes time to stay connected to those who are most important to her.
That's why Rodriguez was firmly on mobile phone giant Verizon's radar when it came time to choose someone to head their "Bienvenido a lo Mejor" campaign aimed at connecting millennials with the influencers they trust the to the most.
"This campaign that Verizon is doing is super dope, Rodriguez told Variety Latino. "To be a company of this magnitude that wants to give back and who is conscientious of the necessity to give back to those that have helped create your amazing company is so important."
From now until August 15, consumers can submit a photo or video to enter to win a chance to win an exclusive experience with Chef Juan Manuel Barrientos, Soccer star Alejandro Bedoya, Beauty vlogger Yasmin Maya, and musician Maya Nicole. Just head to Twitter or Instagram using #LoMejorDeMi and tagging @Verizon and let them know why you want to connect with Juan, Alejandro, Yasmin, or Maya.
And although Rodriguez is not on the list of people you can connect with via this content, there are many ways you can see your favorite Latina throughout the remainder of 2016 and beyond.
"I have a new movie coming out September 30 called Deepwater Horizon," she said. "It's so heartfelt, I was bawling by the end of it. I just shot [Annihilation] with Natalie Portman, Oscar Isaac, and Jennifer Jason Leigh in London, which is what I cut all my hair off for.
Now I'm going into season 3 of Jane and I'm doing projects of my own. I've got the Young Woman Honors, an award show honoring women which I'm doing with The CW. A book I just bought the rights to and a TV show I pitched and just sold.
All the opportunities that doing Jane has allotted me are ridiculous and I'm so grateful for them."