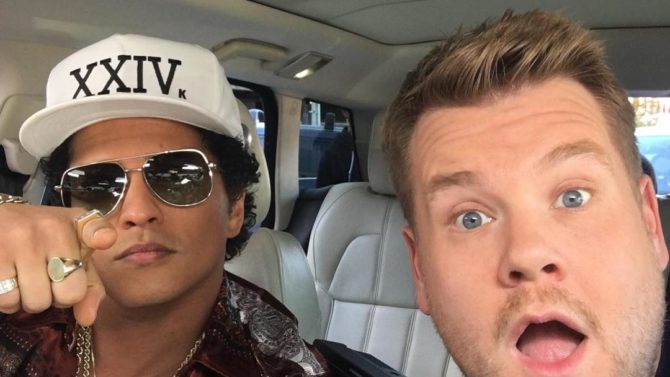 Bruno Mars será el próximo invitado del popular segmento de Carpool Karaoke, que se transmite en el programa de CBS The Late Late Show with James Corden.
El cantante de "Uptown Funk" anunció la noticia este sábado a través de su cuenta de Instagram: "Cuando una fuerza imparable se encuentra con un objeto inmóvil", escribió Mars en su publicación. "Gracias por el aventón", agregó el intérprete de 31 años.
De esta forma, Mars, quien acaba de lanzar al mercado su más reciente álbum titulado 24K Magic, se une a artistas de la talla de Lady Gaga, Adele, Red Hot Chili Peppers y Elton John, quienes ya han viajado de copilotos junto a Corden para cantar los temas más recordados de cada una de sus carreras.
Esta semana fue también anunciado que Madonna sería invitada al segmento. La cantante de "Like A Prayer" reveló la noticia a través de su cuenta de Instagram, lo que causó rápidamente el revuelo de sus fans.  Hasta los momentos, no han sido anunciadas las fechas para estos nuevos capítulos del divertido segmento.