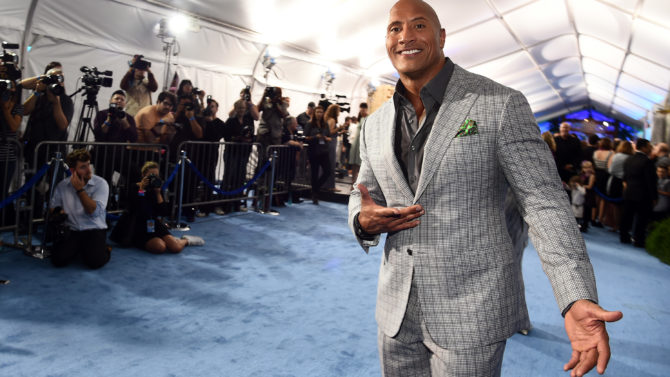 Dwayne Johnson is adding one more title to the long list he's collected throughout the years. On Tuesday morning, People Magazine announced the former wrestling champion is their choice for 2016's "Sexiest Man Alive." Johnson is only the second person of color to cover the magazine in its history. Denzel Washington earned the title twenty years ago in 1996.
What does this mean for the former WWE champion as he moves forward? Although he worries that by earning this new distinction he may have peaked, but many people would disagree.
"I said, 'That's awesome.' And then what went through my mind was just how cool and exciting it is," Johnson said about how he felt when he first heard the news. "And then I thought, 'Wow, we've pretty much reached the pinnacle.' I'm not quite too sure where we go from here. I've done it all, this is it."
The 44-year-old walked the red carpet on Monday night in support of his latest film, Moana where he brings to life the demi-god Maui. He spoke to Reuters ahead of the premiere about a possible run for the White House in 2020.
"I love my country, I'm extremely patriotic and I also feel—especially now—leadership is so important, great leadership is so important, respected leadership is so important. If I felt like I could be an effective leader for us, and surround myself with really high-quality leaders, then sure, I would."
As Johnson continues on that uphill climb of success, he promises that no matter what he will always remain the gentle giant fans have fallen in love with since the late '90s. When asked why he qualifies for the title of Sexiest Man Alive he humbly replied,"Ah, a sense of humor. And I think probably just not trying to be sexy and just being cool and confident in your movies. I think with a lot of my fans, I've gotten to a very, very cool place where there's a direct line between the man they know off-screen and the man they see on-screen."