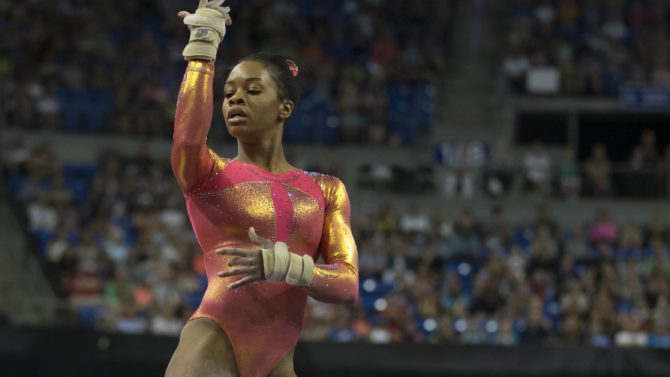 Fresh off of her gold-winning performance at the 2016 Summer Olympic Games in Rio de Janeiro, Brazil, gymnast Gabby Douglas is ready to see how the other side lives. The 20-year-old was just announced to be joining the panel of judges at the 2017 Miss America Pageant alongside singer/actress Laura Marano.
The event, where 52 women will compete for the crown and scholarships, is set to take place in Atlantic City, New Jersey on September 11, 2016.  Douglas and Marano will join fellow celebrity judges Mark Cuban, Sara Foster, Cole Swindell, and Miss America Sharlene Wells Hawkes.
"Miss America has been such an amazing event for so many years and I am excited to have the opportunity to judge the competition this year," Douglas said in a statement. "The contestants are a great example of strong women across America and I especially look forward to hearing the platforms that each of them will represent!"
Confirmation of the two additions to the panel was made official on Monday morning via the Miss America Organization's official Twitter account.
"Excited to announce @gabrielledoug & @lauramarano will join our panel of judges for 2017 #MissAmerica Competition!"
More additions to the panel are to be released in the near future, according to a press release from the organization.